Bilawal requests Maradona to train Pakistani street child football team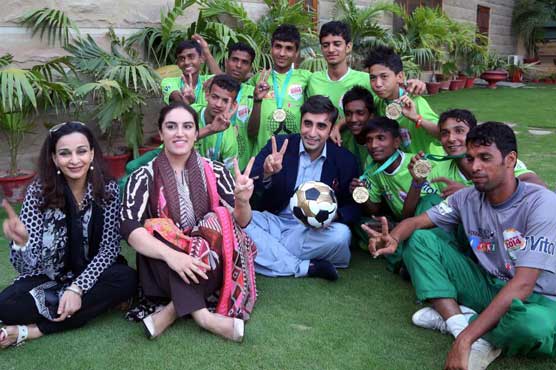 Bilawal said that Pakistani children have brought pride and honour to the whole country.
KARACHI (Dunya News) – Pakistan People's Party (PPP) Chief Bilawal Bhutto Zardari met street child football team and lauded their outstanding performance in the street child world cup in Brazil. Bilawal also said he has talked to football icon Diego Maradona for training of the team.
According to Dunya News sources, team members were given a cheering welcome at Bilawal House Karachi by PPP leader Faryal Talpur, Bakhtawar Bhutto Zardari and Bilawal Bhutto Zardari.
Faryal Talpur announced 1 lakh rupees per team member as reward for outstanding performance.
Bilawal said that Pakistani children have brought pride and honour to the whole country.
Earlier, Sindh Assembly also announced reward packages for the Street Child Football team over outstanding performance in Street Child Football World Cup in Brazil.
The reward package includes free education upto postgraduate level announced by provincial minister for education, two lakh rupees cash prize per player by Sindh government, with an additional five lakh rupees announced by provincial youth minister Mumtaz Jakhrani.
Pakistan Tehrik-e-Insaf (PTI) Member Provincial Assembly (MPA) Khurram Sher Zaman also presented cheques in the amount of ten thousand rupees per player.
Street child football team received a cheering welcome upon returning home by Sindh Assembly as they were graced with cultural outfits including Sindhi hats and shawls.
Sindh Assembly had specially summoned the team to appreciate their outstanding performance in the
Street Child Football World Cup that took place in Brazil.
The house echoed with applause for the team.
Talking on the occasion, the players said they were not expecting such a welcome. They said that street children's talents should be recognized and promoted at early stage.
Street children deserve attention and care, they added.
The house members also sang national anthem.
Speaker Agha Siraj Durrani also presented souvenir shields to the players after the assembly session.