Explosions in Quetta, Peshawar kill 14, injure 65
Last Updated On 15 March,2014 About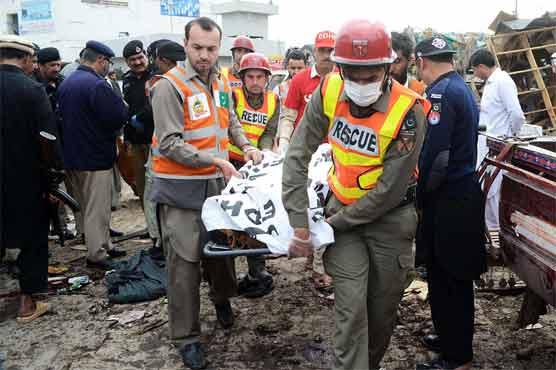 The umbrella TTP denied responsibility, while a spinoff outfit Ahrarul Hind claimed it.
PESHAWAR/QUETTA (Dunya News/AFP) – As many as 7 people died and 40 injured in terrorist attack in Khyber Pakhtunkhwa capital Peshawar; and another 7 died and 25 injured in a separate attack in Balochistan provincial capital Quetta on Friday, Dunya News reported.
According to reports, the Peshawar attack targeted police's armor vehicle while the attack in Quetta was carried out through an explosive device that was planted in a bus near Science College on prince road.
A suicide attack in the suburbs of the northwestern city of Peshawar, close to the lawless tribal areas that are a haven for Taliban and Al-Qaeda linked militants, was followed a few hours later by a bombing in the southwestern city of Quetta.
Dialogue aimed at ending the Islamists seven-year insurgency, which has claimed thousands of lives, resumed last week with government negotiators saying the process was ready to move to a new phase.
But a ceasefire declared by the Pakistani Taliban on March 1 has been shaken by several bloody episodes, including a major attack on a court complex in Islamabad that left 11 people dead.
The main Tehreek-e-Taliban Pakistan (TTP) faction denied that attack, which was claimed by a splinter group, but it nevertheless prompted many observers to question the militants commitment to dialogue.
Ahrarul Hind, a little known insurgent group, claimed responsibility for the attacks.
"We carried out the attacks in Peshawar and Quetta and we have no links with the Tehreek-e-Taliban Pakistan (TTP)," Ahmed Mansoor, a spokesman for the group told AFP.
"We will continue such attacks till the implementation of Islamic sharia in Pakistan."
Friday s attack in Sarband village on the edge of Peshawar, close to the Khyber tribal district, came as Taliban negotiators met the TTP leadership to discuss the next steps in the talks process.
Taliban sources told AFP the TTP s ruling council had asked for the military to pull out of South Waziristan tribal area to allow talks to be held there.
The target of the Peshawar blast was a police armoured personnel carrier, officers said.
"It was a suicide attack and the bomber approached the police vehicle on foot," Najeeb-ur-Rahman, a senior police officer, told AFP, adding that nine people were killed.
Mohammad Faisal, another police officer, confirmed the attack and death toll.
In Quetta, a bicycle bomb containing eight to 10 kilos of explosives, apparently targeting a passing vehicle carrying security forces, killed 10 people and wounded 31, city police chief Abdul Razzaq Cheema said.
The city is the capital of the southwestern province of Baluchistan, which is rife with separatist and Islamist militants and plagued by sectarian bloodshed.
Friday s attack was the deadliest attack to hit the province since January 22, when a bomb targeting a bus carrying Shiite pilgrims returning from Iran killed 24 people.

Threat to talks:

Nearly 7,000 people have been killed in militant attacks in Pakistan since the emergence of the TTP after a military raid on a radical mosque in 2007, according to an AFP tally.
Continued militant violence, the Islamabad court attack and a roadside bomb targeting security forces last week have threatened to derail the talks process.
More than 120 have died in attacks since Prime Minister Nawaz Sharif announced dialogue with the militants in late January.
Talks were a key campaign pledge for Sharif before he was elected to office for a third time last year.
But many analysts are sceptical about their chances for success, given the Taliban s demands for nationwide sharia law and a withdrawal of troops from the lawless tribal zones.
Sharif s announcement came at a time when many had been expecting a full military offensive in North Waziristan, the tribal area that is a stronghold for militants.
The US has long pushed Pakistan to do more to eradicate militant sanctuaries in its seven tribal regions along the border with Afghanistan.
On Friday defence minister Khawaja Muhammad Asif said talks remained the government s preferred option but they would resort to a military offensive if they failed.
---
---
Advertisement