FC, Police present 17 terror suspects before media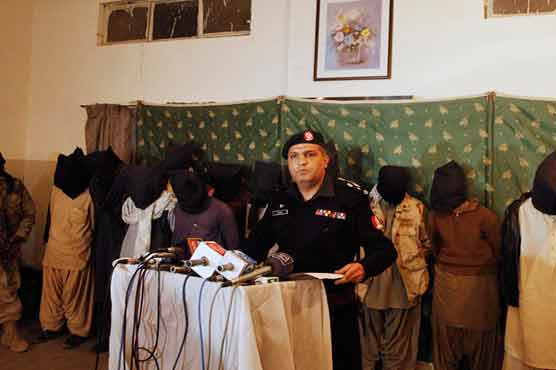 Police and FC personnel raided various locations as part of joint search operation.
QUETTA: (Dunya News) – As part of joint search operation carried by police and Frontier Corps (FC) personnel across various areas of Mastung, at least 17 terrorist suspects were captured and presented before media. Another encounter between security forces and militants of a banned separatist outfit is underway for the past 9 hours.
Colonel Muhammad Azam of Frontier Corps (FC) briefed the media saying a massive search operation was carried jointly at various areas of Mastung including Dareen Garh, Kanak, Babari, Kandhawa, Umerabad, Nawazan, Besham, Koshak, Dolai and Kali Nihal on the direction of Balochistan provincial government.
Forces have surrounded the area with the help of check posts installed at entry and exit points of the area. At least 350 FC personnel have participated in the operation that is being carried out with the help of 2 helicopters and armors among other weapons.
According to Col. Azam, targeted operations across various areas, commissioned by the provincial government will continue. At least 90 suspects were arrested in the search operation carried today, out of which, 73 were released after questioning and preliminary investigation whereas the remaining 17 were booked under terrorism charges and presented before media.
Meanwhile, according to security sources, militants attacked the security forces at Washbud area of Panjgor injuring three personnel following which the FC officials carried a search operation and surrounded the militants. The encounter between the security personnel and militants is underway for the past 9 hours the damage of which is still unclear.
After consultation with the federal government, Balochistan provincial government had ordered a massive operation against the miscreants in Quetta. At least 29 were killed in a suicide attack on Hazara community on Tuesday. The bereaved families protested for at least 38 hours refusing to bury the dead. Following the development, the Interior Minister Chaudhry Nisar and Information Minister Pervez Rasheed reached Quetta on the direction of Prime Minister Nawaz Sharif and assured of the adequate operation against the perpetrators.