PTI rejects defamation notice to Imran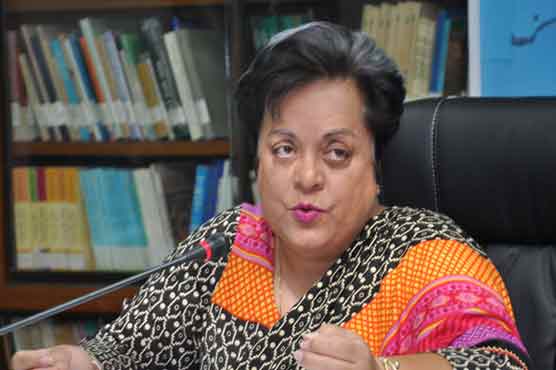 Shireen Mazari says Imran demanded probe into allegations without naming any media group.
ISLAMABAD (Dunya News) - Central Information Secretary Pakistan Tehreek-e-Insaf Shireen Mazari has said that Chairman PTI Imran Khan is firm on his every word what he said in his interview for a private TV channel.
Talking to Dunya News, she said PTI s central office received a fax copy of a defamation legal notice against party Chairman Imran Khan on October 29.
The notice was sent against his interview that was aired by a private TV channel on October 28.
Shireen Mazari said that the legal notice had been sent on behalf of the registered companies that own certain media Groups.
She said the notice had demanded of the PTI chairman that he should stop the broadcast of his interview of 28th October on channel as the language and the conclusive tone that Imran Khan allegedly used in the interview was highly defamatory and unacceptable.
Mazari said that Imran Khan categorically stated in his interview that any allegations regarding any media house relating to money coming from abroad and allegedly creating links with foreign intelligence agencies must be properly investigated.
The PTI chief reiterated that regardless of which media house was alleged to be involved in any such activity an investigation was in order, she added.
Mazari said that the legal notice seems to reflect a guilty mindset where muzzle of free speech is being asserted, while there is clear character assassination of the TV anchor who conducted the interview.
She said that Imran Khan did not take the name of any media house when demanding an inquiry, the defamatory note itself can be subject to a defamatory legal notice to the media house sending it.
As Parliamentary leader of the second largest political party in the country, Imran Khan has every right to seek an explanation of how contracts and bids are decided by the government, she added.
She pointed out that the PTI chief had shown an exceptional level of tolerance to criticism and personalized attacks against him by a certain media group.
But, despite all this, PTI has chosen not to take legal action against that particular media group so far. Those who demand freedom of expression/speech for themselves clearly cannot stomach it for others.
Meanwhile, Mazari stated categorically that Imran Khan stands by all his comments in the interview and PTI stands firmly behind its chairman and the position he has taken.