Pak-US agree to discuss civil nuclear technology: Dar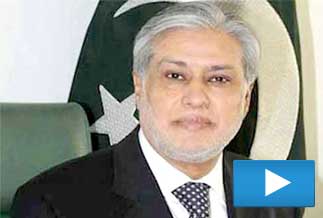 Finance Minister Ishaq Dar held a meeting with US trade delegation in Islamabad.
ISLAMABAD (Web Desk) - Pakistan and United States (US) Tuesday agreed to enhance cooperation in energy sector with special focus on development of bio-gas and wind energy to help Pakistan overcome power crisis.
Pakistan needs investment, particularly in the most needed energy sector, Finance Minister Ishaq Dar said while addressing a joint press conference along with President Overseas Private Investment Corporation (OPIC), Ms. Elizabeth L. Littlefield who was heading US delegation in talks with Pakistan.
Earlier, US delegation held detailed discussions with country's economic and energy managers led by Senator Mohammad Ishaq Dar and discussed various issues related to investment in various sectors of economy, particularly in energy sector.
Dar told media persons that talks with OPIC were the part of government's efforts to bring foreign investment into the country and help enhance economic growth.
He said that both the countries agreed in principle to continue dialogue on Civil Nuclear Technology cooperation, however said that no timeline could be given for any future agreement on the issue.
Dar was of the view that investment cooperation between Pakistan and US could further boost relations between both the countries in future.
The Finance Minister said that Independent Power Producers (IPPs) have the ability to generate more electricity and the government has paid circular debt to enhance generation capacity.
He said both the sides also agreed to continue dialogue on the pending issues of Bilateral Investment Treaty (BIT) to tap the investment potential.
Terming the terrorism as one of the challenges the country was facing, the Finance Minister said the government was committed to come up with a comprehensive strategy by taking onboard all political parties to overcome this menace.
He said that ensuring transparency and good governance were among the top priorities of the government.
Earlier, while briefing the US delegation,the federal minister informed the US delegation about the successful passage of federal budget 2013-14.
He said that the government, this year, has enhanced the allocations for Public Sector Development Programme to Rs.1.155 trillion besides enhancing the allocations of Income Support Programme from Rs.40 billion to Rs.70 billion.
He urged OPIC to bring into investment of private companies in Pakistan's energy sector, adding that government was focused on developing the energy sector and economy besides improving security situation.
Dar assured the US delegation that Pakistan was safe as well as lucrative country for investment and provides a conducive atmosphere for foreign investors.
Addressing the press conference, OPIC President, Ms. Elizabeth L.Littlefield Elizabeth said that the investment through OPIC into Pakistan has increased from $80 million to $300 million, witnessing manifold increase during past couple of years.
She said that Pakistan was facing some challenges, however expressed the optimism that the new government would overcome all these challenges and lead the country towards better future.
She also highlighted the importance of investments in education and energy sectors of the country.
Elizabeth Littlefield said her country will enhance cooperation with Pakistan in power generation through wind and bio-gas, besides enhancing technical cooperation with Pakistan to increase power generation through alternative ways.
She said that the US companies have already been involved in development of energy sector of Pakistan as a 50 megawatt electricity project by an American was continuing in Sindh province.
Earlier, while briefing the finance minister and his delegation about the operations of the OPIC, she said the corporation mobilizes private capital to help solve critical development challenges.
OPIC works with the U.S. private sector and helps U.S. businesses gain footholds in emerging markets, catalyzing revenues, jobs and growth opportunities both at home and abroad.
OPIC achieves its mission by providing investors with financing, guarantees, political risk insurance, and support for private equity investment funds.