Lal Masjid cleric, wife acquitted in abduction case
Last Updated On 28 January,2013 About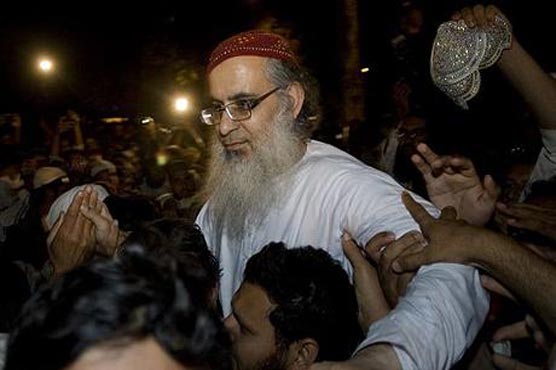 A lower court on Monday acquitted Maulana Abdul Aziz, his wife and four others in abduction case.
ISLAMABAD: The hearing of the case was resumed on Monday in the court of Senior Civil Judge Islamabad Sheikh Muhammad Sohail.
On the occasion all the accused including Maulana Abdul Aziz, Umme Hasaan, Maulana Abdul Basir and Maulana Muhmmad Afzal were present in the court alongwith their counsel Wajih Ullah Khan Advocate, whereas Raja Faisal Ghani and Inspector (Legal) Arshad Mehmood appeared in the court on behalf of Capital Territory Police.
The court had reserved the decision of the case in the last proceeding on completion of arguments by the lawyers of both sides, which took place on 22 December last year, which was declared on Monday.
The text ofthe verdict said that the court found difference in the statements of witness, meanwhile the police failed to produce any object which was snatched from the police officials at the time of abduction including official jeep and wireless set.
The prosecutors were unsuccessful to prove the accused persons guilty of any crime so the court acquits them honorably of all charges.
After the hearing lawyer of Maulana Abdul Aziz, Wajih Ullah Khan while talking to newsmen outside the court said that the case was in the court since five and half years during that the prosecution failed to prove any charges against his clients.

---
---
Advertisement