Declaration signed: Qadri ends long march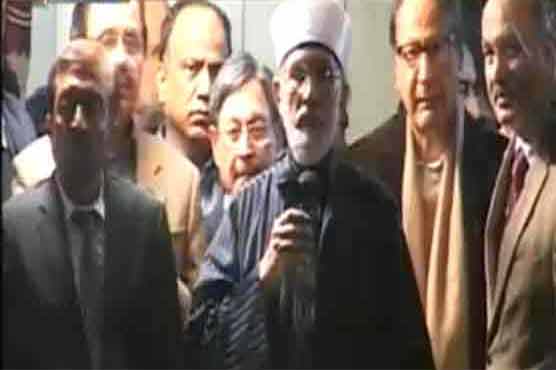 Dr Tahirul Qadri has announced to end long march after having an agreement with the govt delegation.

According to the Long March Declaration, the government is bound to form the caretaker setup in consultation with Dr Qadri .

The issue of Election Commission would be discussed in detail in a meeting to be held on January 27 at Minhajul Quran Secretariat in Model Town Lahore. Moreover, the law minister would also consult the legal advisors in this regard.

The government also assured that all efforts would be made to make the Election Commission more effective and useful.

"No candidate would be allowed to contest election until and unless he meets the criterion of Article 62 and 63 of the Constitution of Pakistan."

According to the declaration, the national and provincial assemblies may be dissolved a week before March 16 and specific date would be announced for forthcoming elections.

Special certificate would be demanded from the related institutions regarding credibility and reliability of the candidates who want to contest elections.

In the light of the agreement, the first week would be specified for evaluation of nomination papers of the candidates and the defaulter persons would not be allowed to start his or her election campaign.

The government would present two names for the caretaker prime minister with consensus.

It is worthy of note no legal action would be taken against the participants of the long march.