Violent power protests continue in Punjab, 3 killed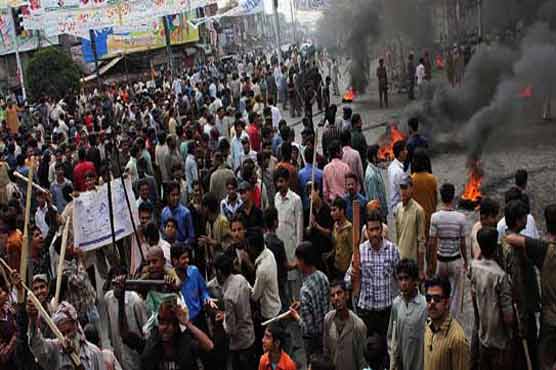 Hundreds of people agitated by prolonged power outages took to the streets on Tuesday.

Violent protests in Punjab continued on Tuesday against prolonged power outages and unscheduled loadshedding with angry people setting on fire public property, vandalizing national assets, and blocking roads.A number of cities witnessed violent protests when power outages stretching up to 22 hours forced people to take to the street.The massive anti-load shedding protests saw three killed and more than ten injured when angry mob headed towards PML-Q legislator Riaz Fatyana's residence in Kamalia area.The infuriated demonstrators, running berserk,blocked Kamalia Toba Road after the incident. Acomplete shutter-down strike is also being observed in the area.In Lahore, citizens faced up to 18 hours of blackouts, which also caused a shortage of water. Protesters blocked Bedian road and burnt tyres.In Khanewal, demonstrations continued in different parts of the city and business activities remained suspended.According to a PEPCO official, power shortfall has slightly reduced to 6,594MW and electricity generation currently stands at 11,161MW against the total demand of 17,757MW.