Last Updated On 31 July,2016 05:25 pm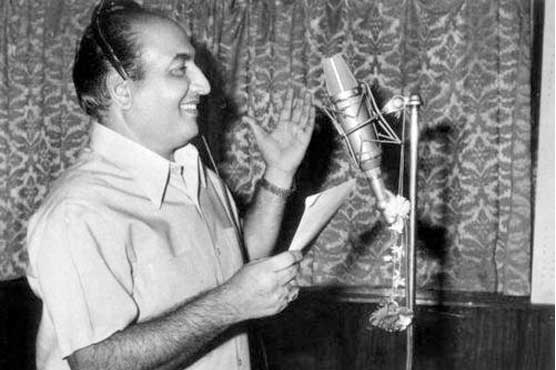 One of the greatest voices the Indian subcontinent ever produced left us on this day
LAHORE: (Web Desk) – One of the greatest voices the Indian subcontinent ever produced, Muhammad Rafi, left this world on this day (July 31) in 1980. Born in Amritsar in 1924, Muhammed Rafi was an Indian singer who was known for his versatility. From Qawwali to Ghazal and from Punjabi Bhangra to Bhajans, Rafi was brilliant at everything. Gifted with a melodious voice by nature, Rafi was a singer true to his profession who would put any amount of effort in a song to do justice to it.
Rafi started singing at a very young age but his first on-stage performance came off in Lahore in 1937 at the age of 13 when he sang along with legendary K.L. Saigal. Rafi's father had moved to Lahore in 1935 along with his family and ran a men's salon in Lahore's famous Bhatti Gate. Lahore gave Rafi's voice a magic that kept his listeners captivated throughout his life. After making his debut in Indian film 'Gaon ki Gori' (1945), his peak time came after the partition. He was one of the most sought after singer from 1950 to 1970.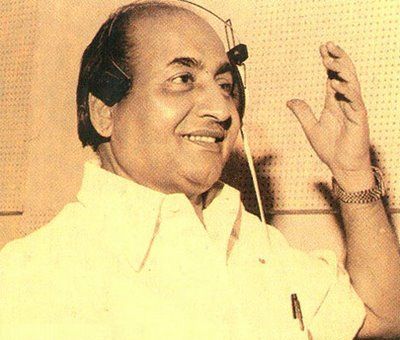 Muhammad Rafi during a recording
The musical genius is known for his Urdu or Hindi songs only but it is a lesser known fact that he sang in as many as 18 languages including Assamese, Konkani, Bhojpuri, Odia, Punjabi, Bengali, Marathi, Sindhi, Kannada, Gujarati, Telugu, Magahi, Maithili, Urdu, English, Persian, Spanish and Dutch.
The legend has it that Rafi's actual name was Rafi Ali. But it was the classic 1952 movie Baiju Bawra, made in the backdrop of Akbar the Great's time, in which Muhammad Rafi sang a legendary Bhajan 'O Duniya Ke Rakhwale'. The song was extremely difficult and the music composed by another legend of the Indian cinema Naushad Ali was so demanding that Rafi vomited blood after singing it. When the Indian Prime Minister asked for anything Rafi wanted as a gift for this song, he requested the Indian PM to change his name to Muhammad Rafi from Rafi Ali. Since then, Rafi is known as Muhammad Rafi.
Rafi could sing it all. He had the ability to change his voice according to the actor on which it was going to be picturized. Moreover, he had the guts to adjust his voice in accordance with the genre of the song he was going to sing.
Baiju Bawra gave Rafi's career a boost that it certainly deserved. The musical-romance had 13 songs, all super-hit, with 5 songs by Muhammad Rafi. 'Tu Ganga ki Mauj, Mai Jamuna ka Dhaara' was a super-hit as well and is remembered even today after 63 years. Baiju Bawra, played by Bharat Bhushan, is a master of music who is proficient in many raags. As Baiju Bawra sings the song, trying to convince Meena Kumari, Meena's boat starts sailing back towards the bank with the power of his voice.
Rafi's songs, picturized on Dilip Kumar created a special combination. Dilip was known for his artistry in getting the songs picturized. With Rafi's melodious playback singing and Dilip's lively on-screen presence, the songs created magic. Songs like 'Madhuban mein Radhika Naache re' (Kohinoor), 'Mujhe Dunya Walon Sharabi na Samjho' (Leader), 'Dil ki Salami Le Le' (Ram aur Shyam) and 'O Duur ke Musafir' (Uran Khatola) were some of the memorable Rafi songs picturized on Dilip Kumar.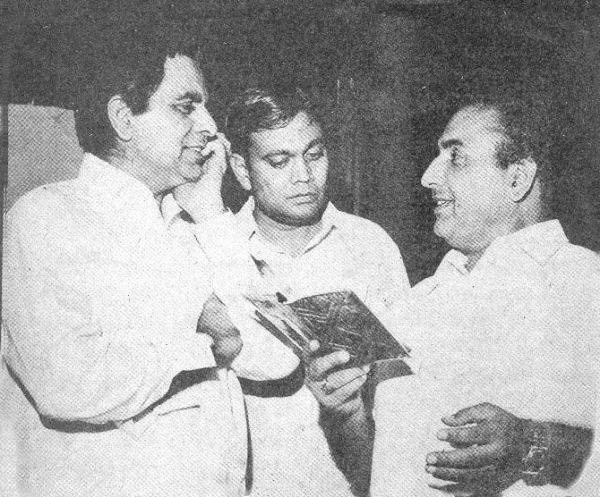 Muhammad Rafi and Dilip Kumar - Two legends in one image
But there wouldn t be a deadlier combination in Indian history than that of Muhammad Rafi and Lata Mangeshkar. The two voices created an impact on the listener s mind like none other.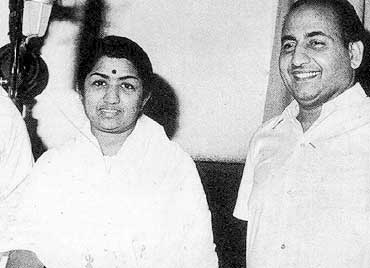 Muhammad Rafi with Lata Mangeshkar
Muhammad Rafi won 6 Filmfare awards, the most prestigious Indian film awards, during his career. The first time he won it was in 1960. Title song of Guru Dutt's 'Chaudhvin Ka Chand' was sung by Muhammad Rafi and the lyrics written by Shakeel Badayuni were simply exceptional. Guru Dutt is known for his love for Waheeda Rehman in real life as well. The magical words written by Badayuni, sung by Rafi and played by Guru Dutt and Waheeda Rehman mesmerized the audience. For those who remember that time, the song still creates nostalgia.
'Teri Pyari Pyari Surat' from 'Sasural' (1961), 'Chahunga Main Tujhe' from the movie 'Dosti' (1964), 'Baharo Phool Barsao' from 'Suraj' ((1966), 'Dil ke Jharoke Mein' from 'Bharamchari' (1968) and 'Kya Hua Tera Wada' from the movie 'Hum Kisi se Kum Nahin' (1977) also won Rafi the filmfare awards.
Out of these songs, 'Kya Hua Tera Wada' was of a special significance in Rafi's life. The legendary singer had lost the glory of the golden days of his life and the nepotism displayed by the super-star of the era Rajesh Khanna in Kishore Kumar's favor had almost ended Rafi's career. There was a clear bias shown by some of the superstars of the Indian cinema during those years against Rafi. But this song brought Rafi back into the limelight and won him the all-important award as well.
The same year, Rafi sang 'Parda hai Parda' from the famous Amitabh Bachan movie 'Amar Akbar Anthony'. The versatility in Rafi's voice is clearly evident from these two songs. While he won the award for his romantic 'Kya Hua Tera Wada', he was also nominated the same year for a completely different genre, i.e. Qawwali, in 'Parda Hai Parda'.
However, it is pertinent to mention here that Rajesh Khanna never publicly said that he did not like Rafi. It may just be that Rajesh Khanna felt that Kishore s voice suited him more. But whenever there was a tough song, Rafi was called for the rescue. Songs like Jis Gali Mein Tera Ghar Na Ho , Gulabi Ankhen Jo Teri Dekhien and Yeh Jo Chilman Hai are some of the most beautiful Indian songs ever and they were all sung by Rafi, picturized on Rajesh Khanna.
Even during the last year of his life, Muhammad Rafi was nominated for three different songs. 'Mere Dost Qissa Yeh' in movie 'Dostana', 'Dard-e-Dil, Dard-e-Jigar' in movie 'Karz' and 'Maine Poocha Chand Se' in movie 'Abdullah' were all nominated for the Filmfare award in 1980. But unfortunately, none of the three won the award.
Rafi was also honored by Padma Shri award, the highest civilian award in India, in 1967. He received a silver medal from the then Indian Prime Minister Pundit Jawahralal Nehru in 1948 on India's first Day of Independence. In 2001, Rafi was honored with the 'Best Singer of the Millenium' by Hero Honda and Stardust Magazine. He also won the Greatest Voice in Hindi Cinema poll by CNN-IBN.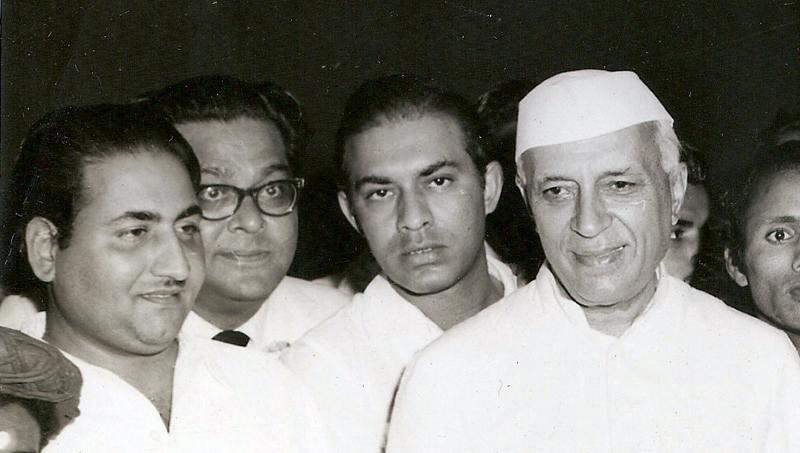 Muhammad Rafi with Indian Prime Minister and statesman Jawaharlal Nehru
It's been several years since his death. But there is hardly a person unaware of his name. Some say he was the greatest singer ever to have lived on this soil. Even if it isn't true, Rafi certainly was one of the most melodious voices ever in Hindi cinema.
Dunya News paid a rich tribute to the legendary singer on his 35th death anniversary.
---
The article has been written by Ali Zaidi.