Disney's animated adventure 'Planes' enters tailwind of 'Cars'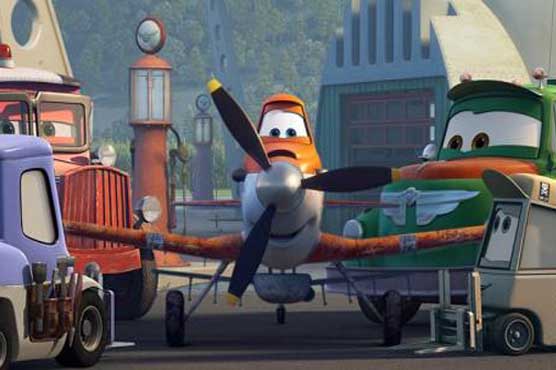 It will be tough for "Planes" to match the success of "Cars."
(Reuters) - For a film once slated to go straight to DVD, Disney s animated adventure "Planes" has some lofty ambitions: it not only wants to be a worthy spin-off of the "Cars" franchise, it also aspires to tell a global story.
Out in U.S. theaters on Friday, "Planes" portrays a fleet of aircraft that is as loveable as the automobiles in "Cars," an underdog story of Dusty Crophopper who aspires to win the air racing championship that challenges contenders to fly around the globe.
The modest crop duster faces two problems, sizable ones at that: he s not built for racing and he is terrified of great heights.
With all odds seemingly against him, Dusty trains with veteran naval plane Skipper and qualifies for the race. In his journey, Dusty befriends other racers such as El Chupacabra, a Mexican plane with mannerism and dress of a luchador wrestler, and Ishani, an exotic plane from India.
"I thought it would be a great opportunity to throw this hurdle at Dusty, who is a small-town American guy, and actually get him out there to experience the world with all these different cultures and ethnicities and colors and sights," "Planes" director Klay Hall told Reuters.
The film features voice actors including Dane Cook, Teri Hatcher and Julia Louis-Dreyfus, but to tap into the global scope of the story, Hall brought on veteran British actor John Cleese as Bulldog, the oldest racing contender, and Bollywood actress Priyanka Chopra to play Ishani.
In one scene, Chopra s character Ishani flies over India s Taj Mahal with Dusty and says, "I have a billion fans and I can t disappoint them." Hall said that Chopra s own background as a Bollywood celebrity helped bring authenticity to Ishani.
TAKING A CUE FROM CARS
"Planes," made by Walt Disney Picture s DisneyToon Studios for $50 million, was originally planned as a direct-to-DVD release. It was heavily inspired by the success of "Cars," the Disney-Pixar hit film that made more than $461 million at the worldwide box office, according to Box Office Mojo. The sequel, "Cars 2," garnered $559 million in global ticket sales.
It will be tough for "Planes" to match the success of "Cars." The film s opening weekend at the box office is projected to come in at under $25 million, according to Box Office Mojo, while both "Cars" films had $60 million-plus openings in the more attractive release month of June. However, the "Cars" films cost $120 million and $200 million to make, respectively.
Hall said he was under strict instruction from "Cars" director and Pixar co-founder John Lasseter to create new characters and a universe that would be loosely connected to "Cars" but not overlap.
Making the aircraft look credible and adorable is straight out of the "Cars" playbook. Hall said the biggest challenge was getting the aircraft to look convincing in flight, from the naval corsairs to the crop dusters.
"For the longest time, the planes looked like toys hanging from strings," Hall explained.
"We researched all of those airplanes and their flight dynamics ... and then we went out and recorded sounds from 23 different flights. Even though a plane works with specific characteristics, the sound has to work as well."
While "Planes" is an animated children s film, the director said he was eager to "embrace the family" audience, steering away from slapstick humor and instead focusing on relationships spanning family, friends and love.
"We don t go to irreverence, we don t go to funny body-function jokes. It s more about trying to tell a sophisticated story with depth to your characters, and then I think you ll get everyone on board," Hall said.