New school for young transvestites, transsexuals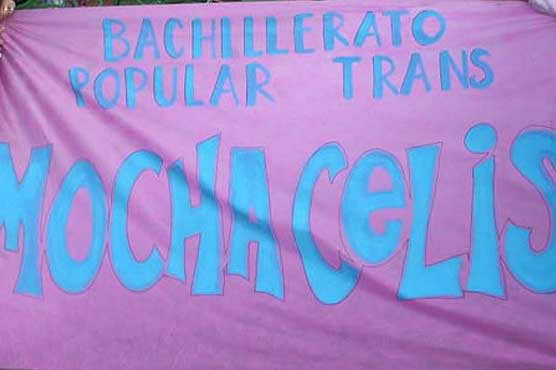 Mocha Celis, which hosts 40 students, will see its first class in December next year.
BUENOS AIRES (AFP) - For years they have been excluded from mainstream education and often condemned to a life of prostitution, but Buenos Aires has now opened a school for young transvestites and transsexuals.
Mocha Celis, which hosts 40 students on the fifth floor of an abandoned railway building in the Chacarita commercial neighborhood, will see its first class in December next year.
With courses tailored so as not to clash with the transvestite or transsexual lifestyle, the idea that the young people earn the equivalent of a high school diploma before they enter the workforce.
Since most of the students prostitute themselves at night and catch some sleep in the morning, classes take place in the afternoon, taught by volunteer teachers.
Daniela Mercado, 27, is determined to catch up on lost time.
A transvestite, Mercado left her native city of Mendoza at the age of 13. Her father had beat her severely when he discovered she was gay.
"I would have preferred to have a son who steals or takes drugs," he had told Mercado the day she left home.
He prevents her from seeing her brothers, out of concern she would "infect" them with her homosexuality.
Mercado finished primary school in 1998. And it is only now, 15 years later that she is back in a classroom.
"These are 15 years during which I neither studied nor worked," a somber Mercado said, her long black hair glamorous but her attire low-key, jeans and a black jacket over a white T-shirt.
Mocha Celis, named after an illiterate transvestite who was shot dead in the 1990s, "wants to provide a range of opportunities to choose from," said project coordinator Francisco Quinones.
"Our hope is that prostitution is no longer the only means of survival."
Managed by the Divine Diversity Treasury Foundation, the school first took off with very rudimentary facilities that have since been improved thanks to a state grant.
As it awaits financing from the Buenos Aires government, the school is running thanks to a state subsidy for the needs of the LGBT community, or lesbians, gays, bisexuals and transsexuals.
Argentina legalized gay marriage in 2010 -- the first Latin American country to do so -- and two years later allowed transvestites and transsexuals to choose the sex with which they wish to be identified.
From the streets to apple crumbles
==================================
Today, Mercado has found an alternative to the streets by cooking apple pastries based on her own recipe and selling them for 10 pesos ($1.70) in Chacarita and to the other students.
"And it s working," she said enthusiastically after learning her newfound trade through cooking classes at the school.
Mercado took advantage of the new law on transvestites to be listed as "female" on her identity card.
Each day, she spends hours on public transport between the Gonzalez Catan suburb and the capital 35 kilometers (22 miles) away.
She long avoided taking the bus or city trains and it took her time to stop fearing malevolent looks of rejection from other passengers.
Mercado also recalled how she sank into a life of cocaine use.
"When you prostitute yourself, you get a lot of vices. And to buy your drugs, you need money, so it s a vicious circle. Sober, I can t stay on the streets," she said.
"I don t know what it s like to have a sexual relationship without getting paid and thinking about how I am going to spend the money."
In Argentina, transvestites have a life expectancy of 35 -- compared to an average of 75 for the population as a whole -- their lives cut short by drugs, violence and sexually transmitted diseases.
Some beat the odds, however, like 77-year-old Mocha Celis student Rosa Brito, who dreams of finishing high school to show her two sons and six grandchildren that she "can do it, despite the age."
She was critical of some of the students who come to study with excessive makeup and over-the-top, body-shaping outfits.
"I tell them that being feminine is to imply, not to show," said Brito.
Mercado is placing all her hopes in her training and aims to find a "normal job" where she will not be subjected to discrimination.
But she faces a tough challenge.
Nationwide, about 85 percent of transvestites or transsexuals fail to finish school and about 70 percent engage in prostitution.
They are the butt of jokes, and victims of bullying and violence, a legacy that will take many years to unravel.
But Quinones said the very existence of Mocha Celis is a victory and a testament to years of fighting for the rights of trans and transvestite minorities.