Mexican president signs education reform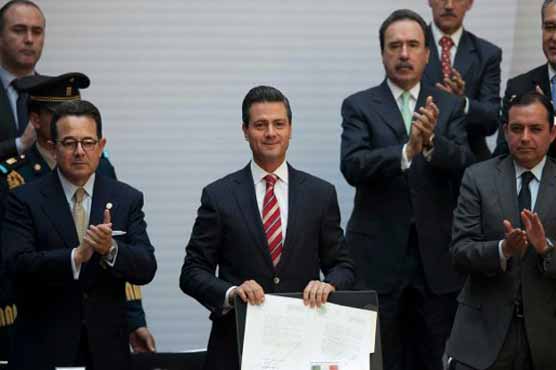 It seeks to create a system of uniform standards for teacher hiring and promotion based on merit.

MEXICO CITY (AP) - President Enrique Pena Nieto signed Mexico's most sweeping education reform in seven decades into law Monday, seeking to change a system in which teaching positions could be sold or inherited, and no official census of schools, teachers and students was ever carried out.
The legislation, which is widely expected to weaken Mexico's powerful teachers' union, was approved earlier by congress and the majority of state legislatures. The reform was a plank of a pact signed between Pena Nieto's Institutional Revolutionary Party and the two main opposition parties
It seeks to create a system of uniform standards for teacher hiring and promotion based on merit, and will allow for the first census of Mexico's education system.
Because the 1.5 million-member National Union of Education Workers union controls the education system, no one knows exactly how many schools, teachers or students exist. The payroll is believed to have thousands of phantom teachers and once included the leader of a major drug cartel in the western state of Michoacan, who had last been in the classroom a decade earlier. The state later canceled his teacher checks.
Another goal of the reform is to raise the level of Mexican students who complete middle school to 80 percent and the number who complete high school to 40 percent. The reform also extends learning hours in some 40,000 public schools.
"Professional merit must be the only way to be hired, remain and advance as a teacher, director or supervisor ... and success will not be subject to discretional criteria," said Pena Nieto after signing the law, accompanied by members of his Cabinet and opposition leaders.
The plan moves much of the control of the public education system to the federal government from the teachers' union, which has been led for 23 years by Elba Esther Gordillo. Under the old law, she hired and fired teachers.
Gordillo was elected to another six-year term as union leader in October. She was the only candidate and there was not a single dissenting vote.
For years, she has beaten back attacks from union dissidents, political foes and journalists who have seen her as a symbol of Mexico's corrupt, old-style politics. Rivals have accused her of corruption, misuse of union funds and even a murder, but prosecutors who investigated never brought a charge against her.
She was expelled from Pena Nieto's Institutional Revolutionary Party in 2006 for supporting other parties' candidates and the formation of her own New Alliance party.
The overhaul was Pena Nieto's first major proposal since taking office Dec. 1 and is considered a political blow to Gordillo, who has played the role of kingmaker for many Mexican politicians.
She was conspicuously absent from Monday's announcement and offered no immediate reaction.
Gordillo has previously said she will fight to make sure the rights of teachers aren't hurt by the reform.