US envoy announces new funding for Pak researchers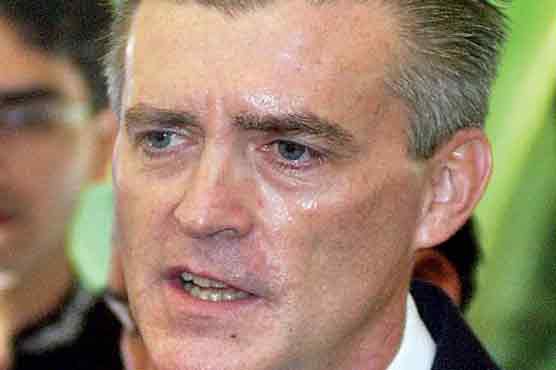 Richard Olson announced new funding for researchers to turn their research into commercialism.

ISLAMABAD – US Ambassador Richard Olson announced new funding for Pakistani researchers to turn their research into commercially viable projects with private sector partners.

He announced this new funding to advance scientific cooperation Thursday at the Pakistan-US Science and Technology Symposium: Economic Growth Through Technology Transfer, organised by the Higher Education Commission and the Ministry of Sciences and Technology, and hosted at the National University of Sciences and Technology.
"International science and technology cooperation is essential. We do not live in a bubble; we live in a globalized world faced with challenges that cross borders and require innovative solutions," said Ambassador Olson.
The Pakistan-U.S. Science & Technology Cooperation Program will sponsor two competitive seed grant programs in 2013: Innovate! and Collaborate! Under these programs, researchers can apply for seed grants of up to $15,000 starting in summer 2013. Application details will be available in summer 2013. To receive notifications on these grant programs, including a program announcement and application instructions are available, please email pkseedgrants@nas.edu.
This year's Pakistan-US Science and Technology Symposium marks the 10-year anniversary of the Pakistan-US Science and Technology Cooperation Agreement and highlights a new focus on economic growth through scientific cooperation.
The two-day symposium brings together American and Pakistani researchers, universities, research institutions, government officials, and entrepreneurs to help build partnerships between researchers and the private sector. The sessions include hands-on workshops on establishing private sector partnerships, intellectual property, and how to "sell" a business idea to potential investors. Over the last decade, the United States and Pakistan have jointly contributed over $35 million to fund Pakistani-U.S. scientist-led research projects among over 40 different institutes and universities in both countries.

Examples of research cooperation that can improve lives include more efficient water treatment to conserve and reuse waste water; systems that rapidly detect deadly, drug-resistant tuberculosis; and solar water-heating systems for remote, rural areas. In addition to the new funding for the Innovate! and Collaborate! initiatives, Ambassador Olson explained several other ways that the United States promotes scientific cooperation with Pakistan.
For example, U.S. Science Envoy Dr. Bernard Amadei and two other U.S. scientists will travel to Pakistan to enhance scientific cooperation in water, disaster prevention, and other areas this year. Three recently-announced Centers for Advanced Studies, funded by USAID, which are linked to Pakistani universities, will develop joint U.S.–Pakistan research cooperation to address Pakistan's energy, water, and agriculture needs.