Roma artist, writer on Nazi atrocities, dies at 79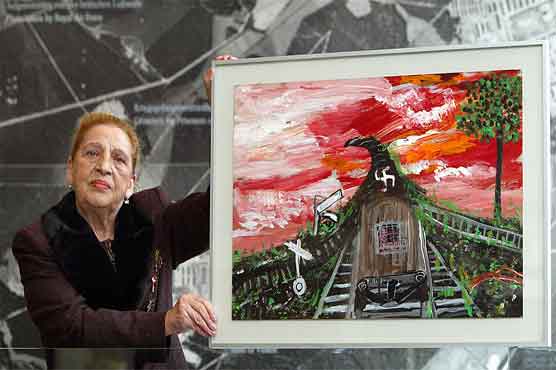 World famous artist has passed away on Wednesday at the age of 79 in a Vienna hospital?
VIENNA: Ceija Stojka survived three Nazi death camps and then found her life s work: Raising awareness of the Nazis persecution of Roma also known as Gypsies in her art and her writings.
Stojka carried the horrors of those camps with her until she was in her 50s, speaking out in words and pictures only decades after she was liberated from the Bergen-Belsen camp at age 12.

Her death Monday at age 79 in a Vienna hospital was announced by her publisher. The Budapest-based European Roma Cultural Foundation described Stokja s concentration-camp themed paintings to The Associated Press on Wednesday as reflecting "entrenched sorrow in the bodies and spirit of the victims."

Austrian Education and Culture Minister Claudia Schmied lauded Stojka s work in exposing Roma suffering under the Nazis, saying her advocacy gave rise to "hope that the oath Never Again! is and will remain more than a historic promise."

Her family s persecution under the Nazis began in 1941 and ended four years later with Stojka s liberation from the Bergen-Belsen camp in Germany. While her mother and four siblings also survived, Stojka s father and brother were killed in Auschwitz, two of the more than 1 million Roma estimated to have been killed under Hitler. In all, nearly 200 members of her extended family perished under the Nazis.

Stojka kept those experiences to herself for decades at a time most Austrians embraced the popular notion that they and their nation were victims of Hitler instead of his willing accomplices.

"If I could write down all my thoughts, they would surely be an endless book of suffering," she told an interviewer before embarking on her 1988 autobiography "We Live in Seclusion." But my thoughts race more quickly than my hands are able to put everything to paper."

Born in Austria to a nomadic family of horse traders, Stojka returned after the end of the Nazi era and made a living selling carpets. She started speaking out in the 1980s, as Austrian awareness of the country s complicity in Nazi crimes grew. And she started painting dark somber pictures depicting the death camps that alternated with joyful images of pre-war life on the road in her family s horse-drawn wagon.

Despite those happier images, she never forgot the horrors of the Nazi era and implored audiences not to let history repeat itself.

"How is it possible at the beginning of the new century that the Roma population is still humiliated and maltreated and sometimes killed as it happened in Hungary for the only reason of being Roma?" she asked a gathering of Hungarian university and high-school students three years ago after a spate of Roma hate killings there.

"Let my grandchildren live," she declared.