Fleeing Mali militants torch library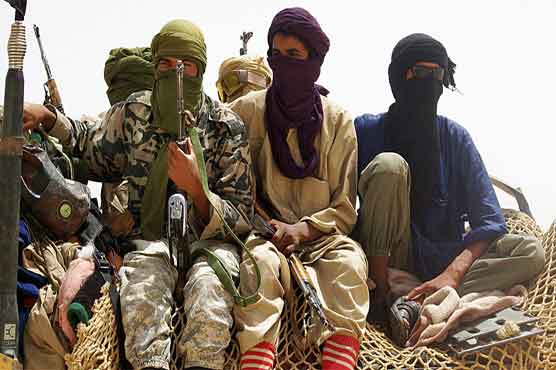 Fleeing extremists torched a Timbuktu library containing historic manuscripts, the mayor says.
MALI: Ousmane Halle said he heard about the burnings early Monday. "It s truly alarming that this has happened," he told The Associated Press by telephone from Mali s capital, Bamako, on Monday.

"They torched all the important ancient manuscripts. The ancient books of geography and science. It is the history of Timbuktu, of its people."

The mayor said Monday that the radical Islamists had torched his office as well as the Ahmed Baba Institute a library rich with historical documents in an act of retaliation before they fled late last week.

He said he didn t have further details as communications to the city have been cut off.

Ground forces backed by French paratroopers and helicopters took control of Timbuktu s airport and the roads leading to the town in an overnight operation, a French military official said Monday. It marked the latest success in the two-week-old French mission to oust radical Islamists from the northern half of Mali, which they seized more than nine months ago.

French Col. Thierry Burkhard, the chief military spokesman in Paris, said Monday that the town s airport was taken without firing a shot.

"There was an operation on Timbuktu last night that allowed us to control access to the town," he said Monday. "It s up to Malian forces to retake the town."

The Timbuktu operation comes a day after the French announced they had seized the airport and a key bridge in a city east of Timbuktu, Gao, one of the other northern provincial capitals that had been under the grip of radical Islamists, who had turned it into a virtual replica of Afghanistan under Taliban rule.

The French and Malian forces so far have met little resistance from the Islamists, who seized northern Mali in the wake of a military coup in the distant capital of Bamako, in southern Mali.

Timbuktu, which lies on an ancient caravan route, has entranced travelers for centuries, is some 1,000 kilometers (620 miles) northeast of Bamako. During their rule, the militants have systematically destroyed UNESCO World Heritage sites in Timbuktu.

A spokesman for the al-Qaida-linked militants has said that the ancient tombs of Sufi saints were destroyed because they contravened Islam, encouraging Muslims to venerate saints instead of God.

Among the tombs they destroyed is that of Sidi Mahmoudou, a saint who died in 955, according to the UNESCO website.

Timbuktu, long a hub of Islamic learning, is also home to some 20,000 manuscripts, some
dating back as far as the 12th century. Owners have succeeded in removing some of the manuscripts from Timbuktu to save them, while others have been carefully hidden away from the Islamists.

The destructions recall tactics used by the Taliban in 2001 when they dynamited a pair of giant Buddhas carved into a mountain in Bamiyan province.

round the same time, the Taliban also rampaged through the national museum, smashing any art depicting the human form, considered idolatrous under their hardline interpretation of Islam. In all, they destroyed about 2,500 statues