Noor Mukadam Case: Zahir Jaffer brought from Bakhshi Khana on chair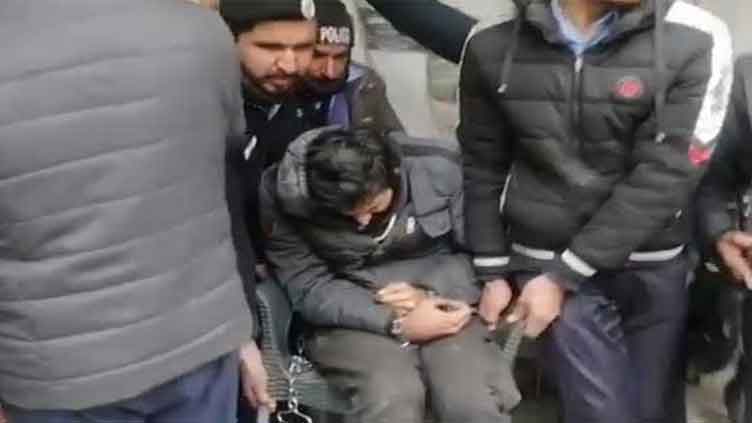 Crime
Noor Mukadam Case: Zahir Jaffer brought from Bakhshi Khana on chair
ISLAMABAD (Dunya News) - The main accused in Noor Muqadam murder case, Zahir Jaffer was brought from Bakhshi Khana on a chair while District and Sessions Court Islamabad directed the jail authorities to conduct his medical examination.
The hearing of Noor Muqadam murder case was done in the court of Additional Sessions Judge Atta Rabbani of Islamabad. Junior lawyer Usman Riaz filed a petition to adjourn the hearing after the main accused s lawyer Zulqarnain Sikandar contracted the corona virus.
However, on the direction of the court, lawyer Zulqarnain Sikandar was allowed to join the hearing through video link which was completed.
During the hearing, the investigating officer Abdul Sattar also recorded his statement. The lawyers of the accused raised an objection that the investigating officer was giving evidence after looking at the record in response to which the court stated that the objection will b written after the completion of the evidence.
The defense lawyer claimed that the mental condition of the accused Zahir Jaffer was deteriorated. The lawyer of Therapy Works Akram Qureshi said that the accused Zahir Jaffer is not able to walk.
The court said that a letter has been written to the jail authorities for a medical check-up of Zahir Jaffer. Further hearing of Noor Muqaddam murder case will now be held on January 20.
Earlier in September 2021, the Sessions Court had rejected the bail pleas of Zahir Jaffer's gardener and cook, the main accused arrested in Noor Muqaddam murder case.
Islamabad Additional Sessions Judge Atta Rabbani had reserved judgment in the Noor Muqadam murder case after hearing arguments on the bail pleas of gardener Jan Mohammad and cook Jameel, who worked at Zahir Jaffer s house.
The court also dismissed the application for registration of another case against the main accused and his parents, which was filed by Tahir Zahoor, owner of Therapy Works.