Last Updated On 21 November,2015 About 6 years ago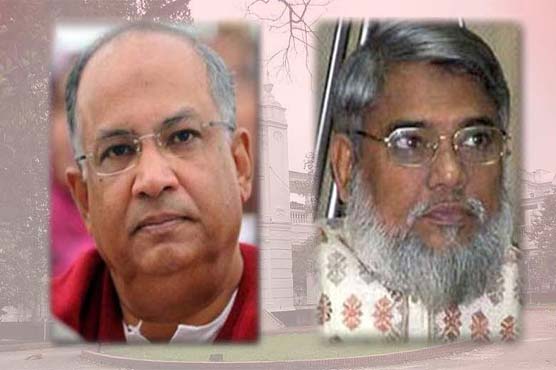 Both have exhausted all legal appeals to avoid execution and their fate now rests with President.
DHAKA (AFP) - Two top Bangladesh opposition leaders who are expected to be hanged within days sought clemency from the president Saturday in a last-ditch attempt to escape the gallows, the country s justice minister said.
Ali Ahsan Mohammad Mujahid and Salahuddin Quader Chowdhury, facing execution for their roles in Bangladesh s 1971 independence war with Pakistan have sent mercy pleas to the home ministry, Anisul Huq told AFP.
"It won t be treated as a mercy petition by an ordinary condemned prisoner, which means it will be treated on an urgent basis," the minister said.
The two leaders have exhausted all legal appeals to avoid execution and their fate now rests with President Abdul Hamid, who has the power to pardon or commute the death sentences of any convict.
Mujahid, 67, is the second most senior member of Bangladesh s largest party, Jamaat-e-Islami, while Chowdhury, 66, is an ex-lawmaker and a top aide to Khaleda Zia, leader of the main opposition Bangladesh Nationalist Party.
Bangladesh s Supreme Court on Wednesday dismissed their final legal appeals, upholding the leaders death sentences originally handed down by a controversial war crimes tribunal in 2013.
The president will seek advice from Prime Minister Sheikh Hasina before making a decision, Huq said, adding the Supreme Court s decision to uphold the sentences "reflected the desire of the country".
They are among more than a dozen leaders of the opposition alliance convicted by the tribunal, which was set up by the secular government in 2010.
The convictions triggered the country s deadliest violence since independence, with some 500 people killed, mainly in clashes between Jamaat activists and police.
There are fears the latest verdicts could spark fresh unrest in the Muslim-majority nation, which is reeling from a string of killings of secular bloggers as well as the murders of two foreigners in recent months.
Immediately after Wednesday s verdict, authorities shut down Facebook and messaging and voice call services Viber and WhatsApp in an attempt to stop Jamaat supporters from mobilising to protest against the rulings.
Jamaat-e-Islami called a nationwide strike on Thursday, declaring Mujahid s original trial "farcical" and "aimed at eliminating" the party s leadership.
International rights groups and legal experts have also criticised the trial, saying it fell short of international standards.
On Friday New York-based Human Rights Watch asked Bangladesh to halt the "imminent executions" of Mujahid and Chowdhury, citing "serious fair trial concerns surrounding their convictions".