Otto Perez, Guatemalan crime-fighter turned suspect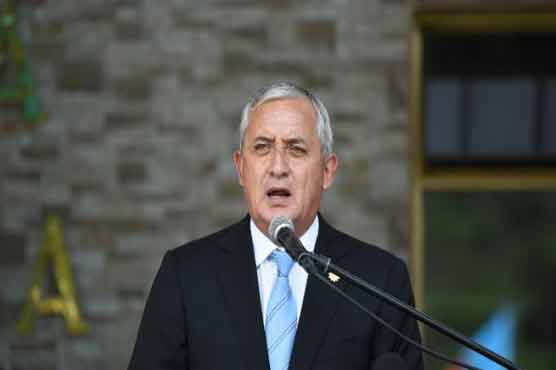 He will be automatically removed from office if remanded in custody by a judge.
GUATEMALA CITY (AFP) - Guatemalan President Otto Perez Molina came to power in 2012 promising to crack down on crime, but now the retired general is the one allegedly on the wrong side of the law.
Perez is fighting for his political survival after UN investigators accused him of running a massive corruption scheme that defrauded the national customs service of millions of dollars.
Investigators say Perez masterminded a system in which businesses could bribe corrupt officials to clear their imports through customs at a fraction of the actual tax rate.
Congress voted Tuesday to strip the 64-year-old conservative of his presidential immunity, clearing the way for prosecutors to charge him.
He will be automatically removed from office if remanded in custody by a judge.
It is all a long way from Perez s winning campaign in 2011, when he vowed to wield an iron fist against the crime wracking the Central American country.
Guatemala, where the scars of a 36-year civil war are still fresh, has a murder rate of nearly 40 per day -- the fifth highest in the world, according to the United Nations.
Perez, a former counterinsurgency officer with a severe style, promised to fight the violent street gangs terrorizing the country while building upon social programs started by his center-left predecessor, Alvaro Colom.
That agenda has been sideswiped by the ever-expanding corruption scandal uncovered by investigators from the Commission Against Impunity in Guatemala (CICIG), a UN unit set up in 2006 to fight high-level graft.
Investigators say the scheme -- dubbed "La Linea," for the phone line businesses allegedly called to access the corrupt network -- was led by the president himself.
Their findings are based on some 89,000 wire-tapped phone calls -- including, they say, recordings that refer to Perez as the "Number One" official behind La Linea.
Perez has apologized for the fact the graft happened on his watch, but has repeatedly denied involvement and refused to quit before his term ends on January 14.
"He trained with the Kaibil (the Guatemalan army s elite force), and the Kaibil never surrender," said Guatemalan indigenous leader Rigoberta Menchu, winner of the 1992 Nobel Peace Prize.
"He s a man of war, a man of the intelligence services, a dangerous man," she told AFP, warning he could use a "shock strategy" to undermine the protest movement against him.
---
Tainted peace hero
---
Though retired from active duty, Perez is the first military man to lead Guatemala since the return of democracy in 1985.
He developed his sharp, staccato speaking manner during 34 years in the barracks, which coincided with the 1960-1996 civil war, a conflict that claimed 200,000 lives.
His military career included a stint at the School of the Americas, the US-operated counter-insurgency institute that trained several Latin American dictators.
Rights groups have accused him of abuses during the war, allegations he vehemently denies.
Instead, he plays up his nickname, "General of the Peace," earned when he signed the 1996 peace accords in the name of the army.
Perez turned from the military to politics in 1993, as head of the presidential military staff, before retiring from the army in 2000.
He survived an attempt on his life in February 2001, when attackers fired on the vehicle he was traveling in with his wife and daughter, three days before he founded his Patriot Party.
He was elected to Congress in 2003 and made an unsuccessful run for the presidency in 2007.
Four years later, he was back to win, running a multi-million-dollar campaign and seeking to soften his image with an informal style, sporting jeans and polo shirts along with his neatly parted silver hair.
But that lighter side has been set aside as the corruption scandal swirls.
Perez has holed up inside the presidential palace and avoided public events since the accusations were formally leveled on August 21.
Born in Guatemala City on December 1, 1950, Perez is married to Rosa Leal, with whom he has two children.