Pakistan skipper Babar Azam gets featured in Indian textbook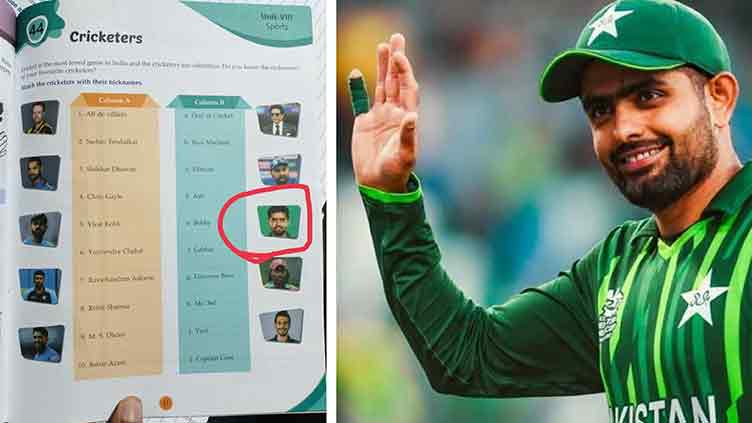 Cricket
A question regarding the World No. ODI batter is part of the grade eighth's book
(Web Desk) – Pakistan skipper Babar Azam is regarded as one of the finest batters in the contemporary cricket world owing to his excellent performance and calculated hits.
Another honour for the right-hand top order batsman comes from arch-rival India where he has been featured in a textbook. A question regarding the Pakistan player has been included in the sports section of the Indian Certificate of Secondary Education (ICSE) book of eighth class.
His fans have widely shared the page of the textbook on social media while showering praises on Mr Azam who is currently world No 1 ODI batter.
The question, which is based on nicknames of cricketers, reads: "Cricket is the most loved game in India and the cricketers are celebrities. Do you know the nicknames of your favourite cricketers?"
The nickname of the skipper, 'Bobby', is also mentioned among the answers in the book.
Indian legend Sachin Tendulkar, Virat Kohli, MS Dhoni, West Indies' Chris Gayle and South Africa' AB de Villiers are also among the players featured in the Indian textbook.
Here's how Babar Azam's fans reacted on social media;
— King Babar Azam Army (@kingbabararmy) March 31, 2023
— Nawaz (@Rnawaz31888) March 31, 2023
— KH SAKIB (@Crickettalkss) March 31, 2023
— Shaharyar Ejaz (@SharyOfficial) March 31, 2023
Babar Azam getting featured in Indian syllabus!



— (@Beybuspaki) March 31, 2023