South Africa and West Indies switch to white-ball mode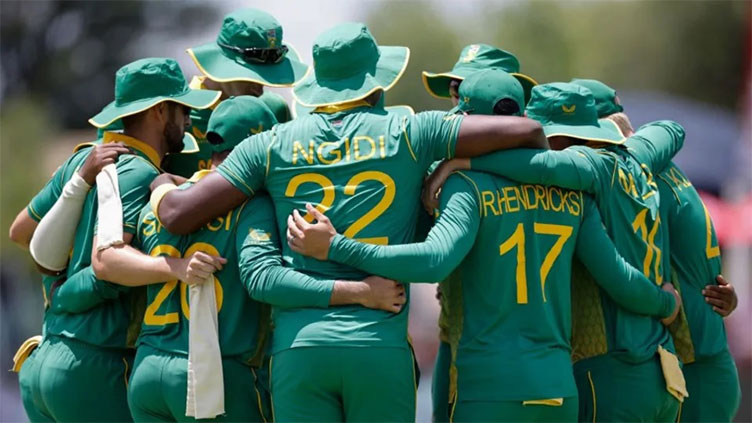 Cricket
For South Africa, it's their first outing under new white-ball coach Rob Walter.
JOHANNESBURG (Web Desk) - After a Test series played against the backdrop of an increasing awareness and discomfort with the next FTP, South Africa and West Indies enter another series which raises scheduling concerns: the context-less ODI rubber. Get used to it - they're back and, at the conclusion of this World Cup Super League, (WCSL) they're here to stay.
For reasons unknown, the league will be scrapped after the 2023 World Cup and qualification for the next 50-over tournament reverts to rankings. In theory, that should place some importance on every bilateral contest; in practice, we've seen it all before. As T20 leagues grow and Tests continue to form part of a championship, the middle child of ODIs is likely to suffer and this series is an example of what that could look like.
South Africa and West Indies have nothing to play for except new starts, which, at least gives some narrative to the next six days.
For South Africa, it's their first outing under new white-ball coach Rob Walter, who communicated with them from afar during their WCSL series against England while he wrapped up work with Hamilton's Central Districts team. Walter is coming home, to a country where he started his cricket career as a fitness trainer and left as a successful franchise coach, to take up a new challenge in New Zealand. It proved exactly that, and he came up with no trophies, but plenty of experience that he will have to use to rebuild South Africa in their worst format. Under Mark Boucher, the 50-over side underperformed to the point where they are at risk of not securing automatic qualification for the 2023 World Cup. That's Walter's mess to clean up.
He will have his best players at his disposal when they go into two must-win matches against Netherlands from March 31. For now, he has some important selection decisions to make, after Kagiso Rabada and Aiden Markram were rested, David Miller was allowed to finish his stint at the IPL, and injuries have wormed their way into the camp.
They lost Keshav Maharaj, whose year has been thrown into disarray after he ruptured his left Achilles' tendon when celebrating a wicket in the second Test, leaving his chances of making the 2023 World Cup slim, and Wiaan Mulder, to a side strain before traveling to East London.
Once there, replacement all-rounder Wayne Parnell fell ill but managed to train on the eve of the first match and will be needed because Andile Phehlukwayo has back spasms and Sisanda Magala has split the webbing on his right hand. That leaves Lungi Ngidi to lead the attack, and gives Tabraiz Shamsi the opportunity to reclaim his spot as the premier spinner. Meanwhile, Gerald Coetzee, Tony de Zorzi, Ryan Rickelton and Tristan Stubbs are all in line for ODI debuts.
The revolving door of white-ball players may suggest a haphazard strategy in a World Cup year but given the difficulties South Africa's ODI squad has been through, they need to trial selections, before they have to make them count.
"We'll be using this opportunity against West Indies to refine our way of playing," Temba Bavuma, South Africa's captain said. "Our priority will always be to win the series but also our efforts to widen the pool and give guys opportunities. This is a big year from a 50-over point of view. That format is probably the main priority."
West Indies are in a similar, and perhaps slightly worse position. They enter this series with a new captain Shai Hope, and an interim coach Andre Coley, whose position will soon be split in two. Like South Africa, they will appoint a red-ball coach who will oversee their scant Test schedule and develop first-class players, and a white-ball manager to head up the ODI and T20 squad. The latter's job could begin in time for the World Cup Qualifiers, which West Indies are all-but-certain to participate in.
West Indies are currently eighth on the WCSL points' table and have played all their matches which means they will be leapfrogged by one or both of South Africa and Sri Lanka and will have to play in Zimbabwe in June to make it to the World Cup. That thought won't scare them as much as it does the other two teams because West Indies have been there, done that and qualified before. So for them, this series does have the value of offering them preparatory time, a dry-run of sorts, under Hope and a different style of playing.
"It's a new journey," he said. "And we need to improve in all areas. We all need to come together and find the right formula because we definitely need to qualify for that World Cup. Everything we do now is geared towards that."
After losing 15 of their 24 WCSL games, including series to Bangladesh and Irelands, and losing two of their last 10 series dating back to January 2021, it's fair to say things have not exactly clicked and Hope's wish that they can discover a winning brand is the first step to approaching the qualifiers. They'll rely heavily on former captain Jason Holder, who was their best player in the Tests and continues to carry an inordinate amount of burden in the side. Far from seeing it as too much to bear, Holder has spoken of his love for playing with this particular group, and his desire that they grow together. The onus will be on Shannon Gabriel, Akeal Hosein, and Kyle Mayers - all experienced in years but not in matches - to step up, because even though there are no points on the line, there is something perhaps a little more important.
"We are playing for international pride and all those people back in the Caribbean, and even all around the world, who support West Indies," Hope said. "Whenever you cross that line, your aim is to win games so everything must be geared to that, everything must go into the middle."
With nothing really on the line, maybe everything is.