Omar Kureishi - voice of an era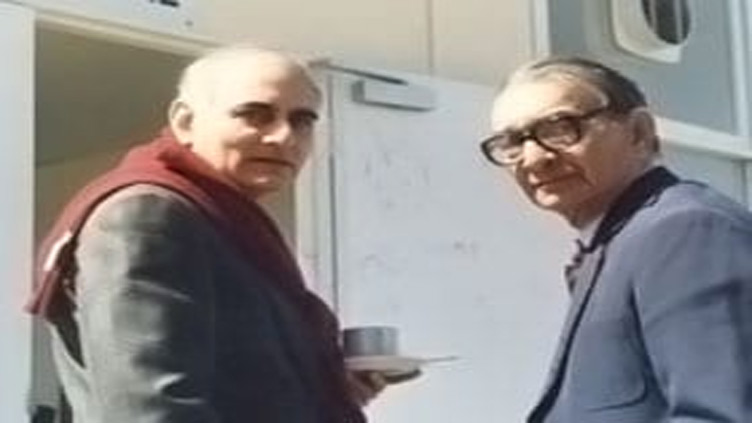 Cricket
It is a day to remember the "Voice of Asian Sport."
By Salman Khan

March 14 may be just another day for anyone but cricket lovers in Pakistan, especially old-timers, who will rekindle the fond memories of the man who lent his voice to the national team's many a triumph and special moment. The day marks the 18th death anniversary of Omar Kureishi whose legacy continues to inspire a legion of admirers - of his words and the values and graces he stood for.
The lines that follow are reflective of the measure of respect this writer has for Omar Kureishi and his contribution to the country as a cricket commentator, author, public relations expert and celebrity.
It is a day to remember the "Voice of Asian Sport" - a voice that became a signature - and celebrate the legacy of "honest opinions with not a trace of malice or bitterness". Omar Kureishi played a fine innings as a broadcaster, writer and public relations executive. What set him apart as a pioneering commentator and penman was a pleasing knack of expression which won him acclaim all over the world.
As a public relations functionary in PIA and cricket commentator, he got an opportunity to extensively travel and hone his skills. He also carved out his name as a political observer and adorned pages of esteemed publications with his reflections and ruminations until last.
Having graduated from the University of Southern California in the early 1950s, he dabbled in journalism on his return home and made his mark as an editor of "The Times of Karachi". Later, he served as the director of public affairs in PIA and joined Radio Pakistan in 1955 as a cricket commentator.
Of all the talents Omar Kureishi possessed in great measure, his command of the English language over the airwaves and in print took him to the heights few among his contemporaries could attain. He rubbed shoulders with the likes of Jamsheed Marker, John Arlott, Neville Cardus…the list goes on. He it was who gave Hanif Muhammad the title of "Little Master" and chose for the national flag carrier the slogan: "Great people to fly with".
A combination of matchless voice and richness of expression gave a new meaning to cricket in the nascent country and made the experience of listening to radio commentary enjoyable. A whole generation of Pakistanis can bear testimony to this fact.
He was one of the 'traditionalists' who had a thorough training in the English language and broadcasting, unlike the modern-day commentators who are part of the profession more because of their knowledge of the game than proper microphone training.
Right from his school days, Omar Kureishi had developed a strong association with cricket - the game he played later in his youth at home and abroad and that became his life-long passion. Cricket was one of many subjects he tried his pen at and "Swinging Drives" and "Gallery of Cricket Persons" were two of his widely-read columns.
"What had been a passion became a love-affair and with all the ups and downs in my life, cricket remained a constant," he wrote in one of his articles.
He hailed with glee the introduction of cricket in the subcontinent, the origins "that are inextricably linked to the Raj itself." He captured the national fervour in his own inimitable style: "A visitor to the region will be dumb-struck by the sight of cricket being played, not only in the cities and towns but in remote, far-flung areas. Not just on cricket grounds but on the streets, on vacant plots even on rooftops…"
The association with cricket as a gentlemanly game was so embedded in his mind that he took to heart 'commercialisation' which took over the sport. He deplored: "Cricket has become an industry while cricket players in the subcontinent vie with film stars for popularity. Purists like myself may lament the radical changes that have come in a game that one associated with leisure and a system of values that put a premium on gentlemanly conduct but that's the way the world has become."
A friend of cricket and admirer of talent, he was equally upset about the apathy of the powers that be towards the national sport. In an article, "Rising from the dust", he draws the most vivid picture of a lack of facilities. Writes Omar: "It is not children alone who play street cricket. Adults do so as well and it is a rather sad commentary on our society that our streets have become our nurseries for producing international cricketers and I can produce a distinguished list of alumni who have graduated from the streets. On its own, it is a harmless activity but it is heart-breaking to see so much enthusiasm and so much talent that must go waste."
Besides contributing columns (Swinging Drives and All Over the Place being two weekly ones that appeared in Dawn for well over 25 years) and writing for leading foreign newspapers and journals, he authored many books.
His first book Black Moods, which was published in 1955, was not about cricket but the subjects chosen, in his words, were "depressing and poignant reminders that the idealism of Pakistan has been adulterated by callousness in attitude and laziness in approach." He highlighted "neglect and indifference" as the nation's "calamitous disease". The book, in his words, was "an attempted documentary in frustration".
It was in Once upon a Time and As Time Goes By that he attained high watermark as a writer. His fascinating accounts of childhood and how it was like to grow up in those days, his sojourn to the USA and back home find true utterance in his works he described as "mosaic of memories".
He counted many cricketers, most notably the late Abdul Hafeez Kardar, as close friends. As a gesture of honour the media centre at Lahore's Gaddafi Stadium was named after Omar Kureishi.
His brother Satto Kureishi, who lived near Karachi airport in a house called Air Cottage, used to hold regular weekly get-togethers. "Friday evenings at Air Cottage" became a byword in Karachi's intellectual and avant-garde circles and Omar Kureishi soon became an integral part of the set.
"Friday Night, in spirit, was like the Speaker's Corner of Hyde Park, a sanctuary of free speech," he would say.
He was (belatedly) awarded Sitara-i-Imtiaz in recognition of his service to cricket. "The Pakistan government awarded me the Sitara-i-Imtiaz, a high civil honour but the citation made it perfectly clear that it was cricket-commentary specific. To hell with whatever else I may have achieved, it is to cricket that I owe my celebrity."
Not to forget his memorable words: "When Sir Edmund Hillary was asked why he had scaled Mount Everest, he replied, 'because it was there.' Cricket has been there all my life."
At the time of his passing, messages poured in to pay tribute to his contributions. Columnist Saad Shafqat wrote: "He was from on older and purer time, and he had exacting standards for everything, most of all for commentary. He could do with words what Wasim Akram could do with a ball. With his words, cricket became not merely a sport but an aesthetic celebration. By any standards, Omar Kureishi lived and died a hero, and will forever be remembered as one."
A.B.S Jafri said about his works, "the soul of humanity breathes through every turn of phrase. Some are, to use a cliche, quotable quotes. Saying farewell as the author was leaving for the US, when brother "Toto embraced me, tears .... streamed down my cheeks. I felt no shame in letting the heart do the talking."
A former PCB chairman, Shahryar Khan, paid him tribute in these words. "I can think of no better tribute than to liken Omar Kureishi to a Neville Cardus and John Arlott rolled into one."
Omar Kureishi's Books

Black Moods, Out to Lunch, The Other side of Daylight, The System, Once Upon a Time, As Time Goes By, Home to Pakistan and Ebb and Flow.