Ponting finds no excuse if Australia don't make semi-final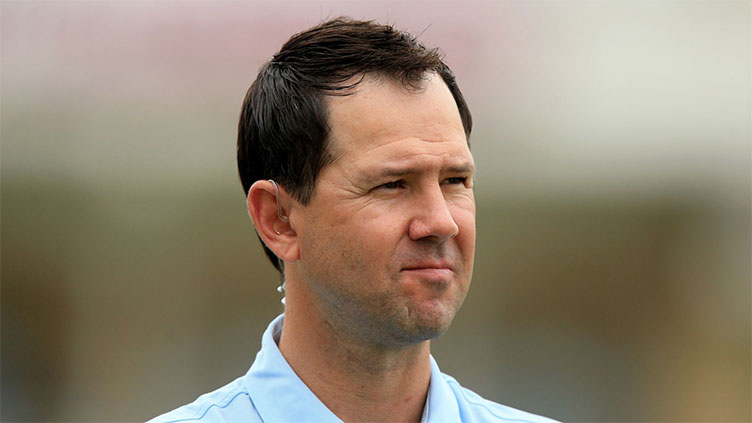 Cricket
Australia are on the brink of elimination ahead of their last group match against Afghanistan.
PERTH (Web Desk) - Former Australia captain Ricky Ponting believes there will be some questions asked of Australia s T20I team if, as the defending champions, they don t progress to the semi-final of a home World Cup.
Ponting, who had led Australia to two 50-over World Cup triumphs and also captained a team that made the semi-final in the inaugural World T20 in 2007, has been surprised by Australia s form in the lead-up and throughout the ongoing tournament.
"If they don t make it through, there ll be some questions asked I m sure, because I had them in the top three coming here," Ponting said on Thursday.
"I thought the final would be between two of Australia, India and England. The reason I say that was no one gave Australia a chance in the last [World Cup] over in the UAE in conditions that didn t suit. But then, they re [currently] in home conditions, and conditions that all of these guys have been brought up [in] and played a lot of cricket [in].
"I thought that everything was just sort of aligning itself quite nicely for the Aussies to make it through. But even their form coming in wasn t great either with the lead-up that they had, and they did play a lot of T20 games coming here. So there can t be any excuse as far as preparation is concerned."
Australia are currently on the brink of elimination ahead of their last group match against Afghanistan in Adelaide. Unless one of New Zealand or England lose their final matches or Australia make up the large net run-rate difference with a thumping win over Afghanistan, then the hosts will miss the semi-finals just 12 months after winning the title for the first time.
Australia had lost five of their last nine T20Is heading into the tournament, and were down and out too before rain in Canberra ruined their match against England. They also lost their only warm-up game against India in Brisbane after being in control of the chase, before getting hammered by New Zealand in the opening Super 12s match.
It might end up being Australia s only loss of the tournament, but it left their net run rate in tatters, and could well be the reason they miss out on the semi-finals. They have also dropped three catches in this tournament so far, looking back at which they will feel they were critical, particularly from an NRR perspective.
Against New Zealand, Finn Allen was put down on 19, and went on to make 42 off 16 balls to rip the game away from Australia at the SCG. Ireland s Lorcan Tucker was dropped on 35 at the Gabba. Had it been taken, it would have left Ireland at 89 for 7 and given Australia a chance to have a huge NRR boost if they could bowl Ireland out for under 110. Instead, Tucker went on to make 71 not out and pushed Ireland to 137.
Thus, Ponting believes Australia have been off in their execution across all departments.
"It s there and then the moments in games that you just have to get right, and you have to nail in World Cups," he said. "And looking back to the last one [T20 World Cup], Australia nailed all the big moments. They haven t so far in this tournament, and that s quite often the difference.
"I think Australia have been just that little bit off in probably all departments, to be honest. They ve been a little bit sloppy in the field. A lot of their bowling hasn t been great, and their batters probably haven t scored the runs that they should have either - particularly probably at the top of the order. If they don t make it through, they obviously only have themselves to blame."