All players of NZ cricket team test negative for COVID-19 in Pakistan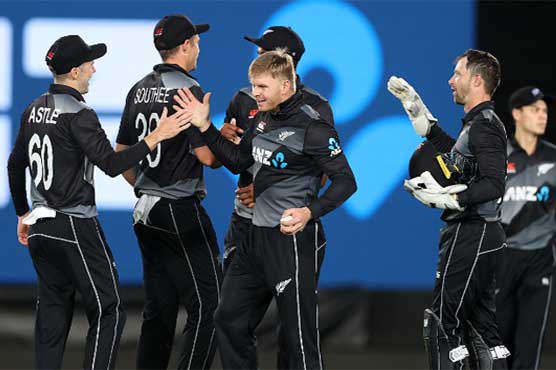 NZ team will start training at Rawalpindi Cricket Stadium from Monday (September 13)
LAHORE (Dunya News) – The New Zealand cricket team players have tested negative for coronavirus (COVID-19), after arriving in Pakistan to play a series of three One-day Internationals and five Twenty20 against the hosts.
The New Zealand cricket team arrived in Pakistan on Saturday for the first time in 18 years. The team had reached in Islamabad through charted flight and the Kiwi players were tested upon arrival. All Kiwi players have returned negative results in the COVID-19 tests conducted on Saturday (September 11).
The NZ team will start training at the Rawalpindi Cricket Stadium from Monday (September 13) for the ODI series.
Meanwhile, after a day of rest, national cricketers will also be in action from Monday. The training session of both the teams is scheduled at 4:30 pm.
Kiwi cricket team arrives at Islamabad Airport on a chartered flight. Strict security arrangements were made on the arrival of the guest team.
The Pakistan team will take on New Zealand in a series of three ODIs and five T20Is, with the first match scheduled on September 17, and the final one on October 3.
The ODI series against New Zealand will be played at the Rawalpindi Stadium, with matches scheduled for Sept 17, 19, and 21, while the Gaddafi Stadium will host five T20s scheduled to take place from Sept 25 to Oct 3.
It is pertinent to mention here that the Black Caps are not at full-strength, and they have travelled for both tours without Kane Williamson, Trent Boult, Kyle Jamieson and Lockie Ferguson, who will all be taking part in the second half of IPL 2021 in the UAE. Tom Latham is leading New Zealand with Williamson absent.
Pakistan had earlier announced that stadiums could be filled upto 25 per cent capacity for the matches against New Zealand. Spectators would have to be fully vaccinated to be able to attend games. The three ODIs, all taking place in Rawalpindi, will be open to 4500 spectators each. The five T20Is, all at the Gaddafi Stadium in Lahore, will accommodate 5500 spectators each.
Match schedule
Sept 17 – 1st ODI, Rawalpindi
Sept 19 – 2nd ODI, Rawalpindi
Sept 21 – 3rd ODI, Rawalpindi
Sept 25 – 1st T20I, Lahore
Sept 26 – 2nd T20I, Lahore
Sept 29 – 3rd T20I, Lahore
Oct 01 – 4th T20I, Lahore
Oct 03 – 5th T20I, Lahore