Fans welcome Black Caps on their visit to Pakistan after 18 years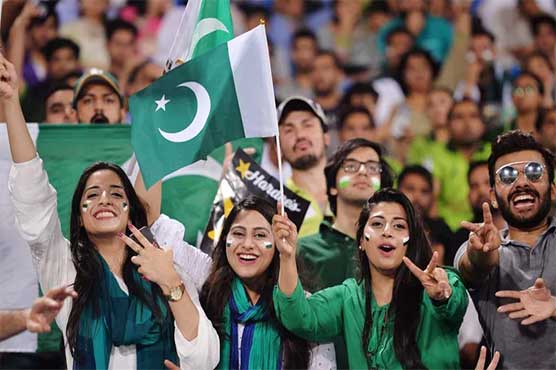 Pakistan cricket fans are known all over the world for not only cheering for their team
LAHORE (Dunya News) – Fans are the true essence of any sports and they are getting more significant and relevant in these unprecedented times of Covid-19.
Pakistan cricket fans are known all over the world for not only cheering for their team but for providing passionate support to teams that visit the country.
They are delighted on the news of New Zealand cricket team's historic visit to Pakistan and are excited to welcome them in Rawalpindi and Lahore.
New Zealand will arrive in Islamabad on 11 September to play three ODIs and five T20Is. The ODIs are part of the ICC Men's Cricket World Cup Super League and will be played at the Pindi Cricket Stadium on 17, 19 and 21 September, while the Gaddafi Stadium will host the T20Is from 25 September to 3 October.
Chacha Cricket, Sialkot: "I watched New Zealand play in Pakistan 18 years ago. I feel fortunate I will once again see the both sides playing in Pakistan after 18 years."
Chota Chacha Cricket, Lahore: "I am 61 years old but I am so passionate and excited about cricket, whenever I watch or talk about the sport, I feel myself as energetic as an 18-year old boy. I am very excited about New Zealand's tour."
Laila Rizvi, Karachi: "I am eagerly waiting for the historic series between Pakistan and New Zealand and I am supporting Babar Azam's team from the core of my heart."
Zehra and Yazdan (Little siblings), Lahore: "We are also excited to watch Babar Azam's side encounter with Tom Latham's side. We have planned to visit to Gaddafi Stadium once the two squads will reach Lahore for the five-match T20I series.
Mama Cricket, Sindh: "We welcome New Zealand cricket team on visiting Pakistan after 18 years."
Fatima Bilal, Lahore: "I am super excited to watch New Zealand playing in Pakistan. As a fan, I have mixed feelings and looking forward to watching some good and competitive cricket in my city."
Amjad Pehlwan, Islamabad: "I am a big fan of Babar Azam and I will be present in the stadium to cheer my favorite player in Rawalpindi."
Amna Farooq, Lahore: "I am very excited that New Zealand is coming to our country after 18 years and I wish best of luck to Pakistan."
Tayyaba Rizvi, Lahore: "I am eagerly waiting to see Shaheen Afridi running in to bowl against the Black Caps."
Chacha Pakistani, Lahore: "We will bring a welcome poster for New Zealand cricket team and will carry their flag in the stands to show support to our guests."
Mr. Pakistan, Lahore: "We love cricket and we will cheer on each ball, wicket and boundary regardless of any team."