Kashmir Premier League 2021 schedule announced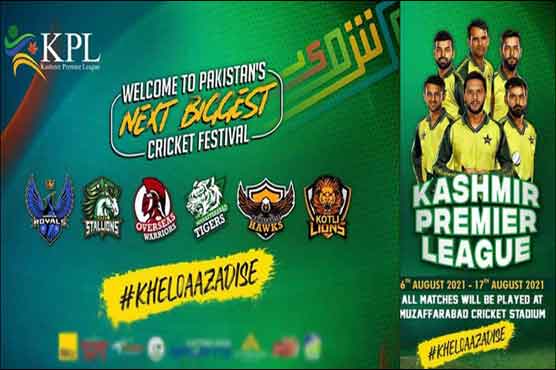 Kashmir Premier League 2021 schedule announced
MUZAFFARABAD (Dunya News) - The schedule for inaugural edition of Kashmir Premier League 2021 has been announced.
Organized by the Pakistan Cricket Board, the T20 series will take place in Muzaffarabad Cricket Stadium in Azad Kashmir.
Six teams will fight for the trophy in the league, out of which one is from the Indian-occupied Kashmir. The teams, Rawalakot Hawks, Kotli Lions, Mirpur Royals, Muzaffarabad Tigers, Overseas Warriors, and Bagh Stallions, will play in a double round-robin format with each team facing the other twice.
The top four teams on the points table will make it to the KPL Cup Final.
With all matches scheduled to be held in Muzaffarabad, the ten-day series is scheduled to take place from August 6 to 16.
August 6, Friday

Opening ceremony [6:00pm to 7:00pm]
Mirpur Royals vs Rawalakot Hawks [8:30pm]
August 7, Saturday

Bagh Stallions vs Kotli Lions [2:00pm]
Overseas Warriors vs Muzaffarabad Tigers [7:30pm]
August 8, Sunday

Mirpur Royals vs Bagh Stallions [2:00pm]
Rawalakot Hawks vs Kotli Lions [7:30pm]
August 9, Monday

Overseas Warriors vs Mirpur Royals [2:00pm]
Rawalakot Hawks vs Muzaffarabad Tigers [7:30pm]
August 10, Tuesday

Muzaffarabad Tigers vs Kotli Lions [2:00pm]
Bagh Stallions vs Overseas Warriors [7:30pm]
August 11, Wednesday

Rawalakot Hawks vs Bagh Stallions [2:00pm]
Kotli Lions vs Mirpur Royals
August 12, Thursday
Bagh Stallions vs Muzaffarabad Stallions [10:00am]
Rawalakot Hawks vs Overseas Warriors [3:30pm]
August 13, Friday

Overseas Warriors vs Kotli Lions [2:00pm]
Muzaffarabad Tigers vs Mirpur Royals [7:30pm]
August 14, Saturday [Qualifier 1]

Team 1 vs Team 2 [4:00pm]
August 15, Sunday [Eliminator 1]

Team 3 vs Team 4 [4:00pm]
August 16, Monday [Eliminator 2]

Qualifier runners-up vs Winners of Eliminator 1 [4:00pm]
August 17, Tuesday [Final]

Winner of Qualifier 1 vs Winner of Eliminator 2