Last Updated On 21 February,2019 11:25 pm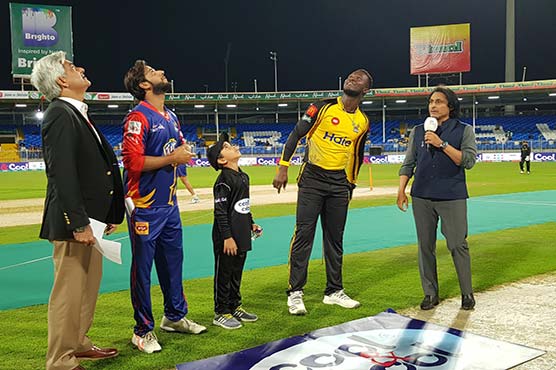 Both teams have played two matches apiece in the tournament so far
DUBAI (Dunya News) – Peshawar Zalmi set a victory target of 154 runs for Karachi Kings in the ninth match of the fourth edition of the Pakistan Super League (PSL-4) at the Sharjah Cricket Stadium on Thursday.
Karachi Kings has won the toss and elected to bowl first against Peshawar Zalmi.
Sohail Khan and Ravi Bopara have been dropped for Karachi Kings while Peshawar Zalmi are playing the same eleven which played their last match.
Both teams have played two matches apiece in the tournament so far and managed to succeed only once.
Peshawar Zalmi are number two at the points table while Karachi Kings are at number five at the moment.
Karachi Kings fans are eager to see Babar Azam's elegant batting and Mohammad Amir's attacking spells of fast bowling.
On the other hand, Peshawar Zalmi are relying heavily on Hasan Ali's pace and swing, and Kamran Akmal's hard-hitting.
Karachi Kings Team Players:
Peshawar Zalmi Team Players:
---
WATCH VIDEO – PESHAWAR ZALMI WICKETS
---
OUT! Aamer Yamin bowls @KamiAkmal23 and Peshawar Zalmi have lost their first wicket. They are 3/1 in the 2nd over

Scorecard and ball-by-ball details https://t.co/R1IESXmCAE #PZvKK #PSL2019 #KhelDeewanoKa #CricketForAll pic.twitter.com/luadVZzsuI

— Cricingif (@_cricingif) February 21, 2019
OUT! @SRazaB24 dismisses @UmerAmin200 and Karachi Kings have another wicket. He came down the track, the ball kept low and that was enough to bring about his downfall

Scorecard and ball-by-ball details https://t.co/R1IESXmCAE #PZvKK #PSL2019 #KhelDeewanoKa #CricketForAll pic.twitter.com/l7pc01ohgP

— Cricingif (@_cricingif) February 21, 2019
OUT! @SRazaB24 strikes again. Beaten in the flight and Wayne Madsen had no answer to that one. Karachi Kings are on top at the moment

Scorecard and ball-by-ball details https://t.co/R1IESXmCAE #PZvKK #PSL2019 #KhelDeewanoKa #CricketForAll pic.twitter.com/ZQ6sZ8wFlx

— Cricingif (@_cricingif) February 21, 2019
OUT! Another one bites the dust! @simadwasim bowls @KieronPollard55 and Peshawar Zalmi are reduced to 53/4 after 9 overs

Scorecard and ball-by-ball details https://t.co/R1IESXmCAE #PZvKK #PSL2019 #KhelDeewanoKa #CricketForAll pic.twitter.com/0M7Z71pvST

— Cricingif (@_cricingif) February 21, 2019
OUT! Usman Shinwari gets rid of @daws128 (43) and Peshawar Zalmi are 124/5 in the 17th over now

Scorecard and ball-by-ball details https://t.co/R1IESXmCAE #PZvKK #PSL2019 #KhelDeewanoKa #CricketForAll pic.twitter.com/ALT6dk7cSp

— Cricingif (@_cricingif) February 21, 2019
OUT! Usman Shinwari bowls Imam-ul-Haq (56) and Peshawar Zalmi have lost another wicket. They are 131/6 in the 18th over

Scorecard and ball-by-ball details https://t.co/R1IESXmCAE #PZvKK #PSL2019 #KhelDeewanoKa #CricketForAll pic.twitter.com/zvrUY9n02R

— Cricingif (@_cricingif) February 21, 2019
OUT! @iamamirofficial gets @WahabViki, who hits it straight to the fielder. Peshawar Zalmi are 135/7 in the 19th over

Scorecard and ball-by-ball details https://t.co/R1IESXmCAE #PZvKK #PSL2019 #KhelDeewanoKa #CricketForAll pic.twitter.com/r0rh6HCPKT

— Cricingif (@_cricingif) February 21, 2019
RUN OUT! @RealHa55an runs himself out after some excellent fielding from @amiryamin54

Scorecard and ball-by-ball details https://t.co/R1IESXmCAE #PZvKK #PSL2019 #KhelDeewanoKa #CricketForAll pic.twitter.com/Idv6f7Tq6O

— Cricingif (@_cricingif) February 21, 2019
---
WATCH VIDEO – KARACHI KINGS WICKETS
---
OUT! @RealHa55an removes @liaml4893 on the very first delivery. The ball came back a tad and struck the batsman in front

Scorecard and ball-by-ball details https://t.co/R1IESXmCAE #PZvKK #PSL2019 #KhelDeewanoKa #CricketForAll pic.twitter.com/ciYknxIxAE

— Cricingif (@_cricingif) February 21, 2019
RUN OUT! Some excellent fielding from @RealHa55an and Peshawar Zalmi have got a massive breakthrough in @babarazam258 (1). Karachi Kings are 13/2 after 3 overs

Scorecard and ball-by-ball details https://t.co/R1IESXmCAE #PZvKK #PSL2019 #KhelDeewanoKa #CricketForAll pic.twitter.com/EbqLwuRPh0

— Cricingif (@_cricingif) February 21, 2019
OUT! @bendunk51 is the wicket to fall and @WahabViki has struck on this occasion. Karachi Kings in tatters at 15/3 now in the 4th over

Scorecard and ball-by-ball details https://t.co/R1IESXmCAE #PZvKK #PSL2019 #KhelDeewanoKa #CricketForAll pic.twitter.com/FCmNEoXwIJ

— Cricingif (@_cricingif) February 21, 2019
---
Pakistan Super League remaining fixtures
---
Lahore Qalandars vs Multan Sultans - February 22, Sharjah
Islamabad United vs Peshawar Zalmi - February 22, Sharjah
Quetta Gladiators vs Lahore Qalandars - February 23, Sharjah
Islamabad United vs Karachi Kings - February 23, Sharjah
Multan Sultans vs Peshawar Zalmi - February 24, Sharjah
Quetta Gladiators vs Karachi Kings - February 24, Sharjah
Islamabad United vs Multan Sultans - February 26, Dubai
Lahore Qalandars vs Quetta Gladiators - February 27, Dubai
Karachi Kings vs Islamabad United - February 27, Dubai
Multan Sultans vs Peshawar Zalmi - February 28, Dubai
Karachi Kings vs Lahore Qalandars - February 28, Dubai
Peshawar Zalmi vs Islamabad United - March 1, Dubai
Multan Sultans vs Quetta Gladiators - March 1, Dubai
Quetta Gladiators vs Peshawar Zalmi - March 4, Abu Dhabi
Karachi Kings vs Multan Sultans - March 4, Abu Dhabi
Lahore Qalandars vs Peshawar Zalmi - March 5, Abu Dhabi
Quetta Gladiators vs Islamabad United - March 5, Abu Dhabi
Karachi Kings vs Peshawar Zalmi - March 7, Karachi
Lahore Qalandars vs Islamabad United - March 9, Lahore
Karachi Kings vs Quetta Gladiators - March 10, Karachi
Lahore Qalandars vs Multan Sultans - March 10, Lahore
---
Pakistan Super League playoffs
---
Eliminator 1 (3v4) - March 12, Lahore
Qualifier (1v2) - March 13, Karachi
Eliminator 2 - March 15, Karachi
Final - March 17, Karachi