England have left 'scars' on Australia: Bayliss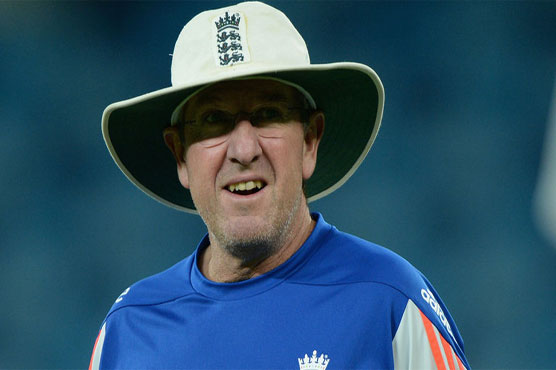 England coach Trevor Bayliss says his team left "a few scars" on Australia in the Adelaide Test.
ADELAIDE (AFP) - England coach Trevor Bayliss says his team left "a few scars" on Australia in the Adelaide Test, suggesting the home side s second innings batting performance will have some players feeling "nervous".
The fighting talk came after England slumped to a crushing 120-run defeat in the second Ashes Test at Adelaide, leaving the tourists trailing 2-0 and on the verge of losing the five-Test series.
Despite succumbing again, Bayliss was upbeat about his bowlers skittling Australia for 138 in the second innings, leaving England with a chance of chasing down a record 354-run victory target.
"We have got a few scars there with the Australian team," he told the BBC.
"There will be a few who have missed out and a few who will be nervous.
"They ve got four good bowlers and we ve shown we can compete with them for a period of time. We ve just got to do it for longer."
Captain Joe Root was also positive after the game, saying England were "still massively" in the Ashes series.
This is despite England not beating Australia at Perth s WACA Ground since 1978, where the third Test starts next week.
"We ve shown throughout the two Tests in periods we can out-perform Australia, but just not over five days," said Root, who scored 67 in the second innings run chase but failed to stay at the crease long enough to give his side a realistic shot at winning.
"If we can perform to our ability for longer periods of time we ll win games. The belief in dressing room is definitely there."
Bayliss said the team played well in final days of the Adelaide day-night Test, but they needed to make more than 220 runs in an innings to stand a chance in Perth.
"If we do that well we can put more pressure on Australia than we did on this match," he said.
Australia head into the third Test with allrounder Mitch Marsh recalled to the squad, with the home side conscious of protecting star fast bowlers Mitchell Starc, Josh Hazlewood and Pat Cummins with the series still alive and three Tests remaining.
Marsh, brother of Adelaide Test centurion Shaun Marsh, last played a Test on Australia s tour of India in March and required a full shoulder reconstruction after an injury in the Bangalore Test.
But he is confident he can contribute if selected, with middle-order batsman Peter Handscomb likely to be dropped if Australia opt for Marsh.
"As an allrounder in the Australian team with our attack I m obviously not going to be bowling 30 to 40 overs a game," he said.
"But I ve worked hard over the last eight months to get my body into a position where I m now playing again as an allrounder so that s really exciting."