Cricketers flounder in New Delhi's hazardous smog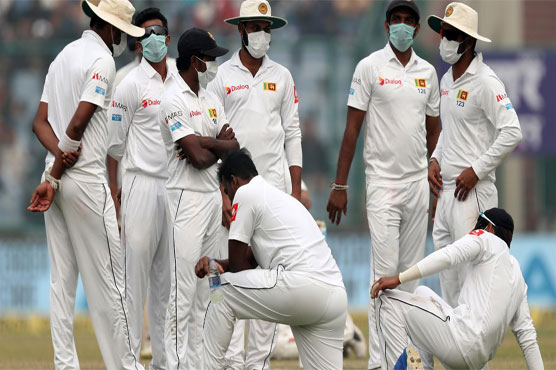 New Delhi authorities faced scathing criticism over their lack of action to combat pollution.
NEW DELHI (AFP) - Indian and Sri Lankan cricketers battled through hazardous smog levels in a Test match Monday as New Delhi authorities faced scathing criticism over their lack of action to combat pollution.
A day after protests by Sri Lankan players temporarily halted the third Test at the Feroz Shah Kotla stadium, the third day s play went ahead in even worse smog.
The concentration of the smallest and most harmful airborne pollutants hit 448, about 18 times the World Health Organization s safe level, just before the players took lunch.
Lower but still hazardous smog levels levels the day before prompted Sri Lanka s fielders to wear face masks, and their coach Nic Pothas said some vomited in the dressing room Sunday.
Sri Lanka s substitutes wore facial coverings on Monday when running drinks to their batsmen on the pitch.
Visiting skipper Dinesh Chandimal appeared uneasy in the morning and called for his trainer, while fellow batsman Angelo Mathews took regular water breaks, but the pair went on to hit a century each.
Indian players did not wear masks while fielding Monday, but paceman Mohammed Shami acknowledged it was "a matter of concern".
"It wasn t as bad as it was made out to be, though that might be because we re used to it," Shami said after the match.
"It s my belief that we should reduce factors which cause pollution, as at the end of the day it s us who get affected."
An environmental court, the National Green Tribunal, lambasted the Indian capital s government for letting the game go ahead and for its lack of action over the smog.
The court s lead judge Justice Swatanter Kumar also ordered the city to file a proposed plan of action against pollution within 48 hours. The city had pleaded for more time.
"Every newspaper has been carrying headlines that the air pollution was going to be higher this week. Still you took no action," Kumar was quoted as saying by the Press Trust of India news agency.
"You should have not held the match if the air quality was so bad," he added.
Pollution levels generally rise during the winter in Delhi, pushed up by crop burning in states near the capital. But the smog has become alarming in the past two years.
India s hosting of the FIFA Under-17 World Cup in October was dogged by fears of pollution, with matches deliberately kept out of Delhi after the Diwali festival when smog levels traditionally soar.
"You can t host sport events in Delhi from Diwali till end of Feb, at least. It is a fact," tweeted the tournament s director Javier Ceppi.
"We had to accommodate our whole schedule to avoid it and others should also think about athletes health first."
Plans to introduce car restrictions in Delhi have been proposed but not implemented yet.
Expatriate workers have increasingly rejected New Delhi as a posting while local families are now boycotting outdoor activities for their children.
At the Jawaharlal Nehru stadium, Ritika Kapur, 38, told how she had stopped her 10-year-old son Rian from playing soccer because his allergies had worsened.
Rian was playing in a boy s league "but he would come back unwell. He would start wheezing and coughing. It just didn t work so he had to drop the sport and now he has picked up badminton because it is an indoor sport," she said.
Her son said that when the bad air comes "there is an irritation in my mouth and my nose. It s like asthma, you can t breathe."
Media reports said India s cricket captain Virat Kohli had been angered by what were seen as delaying tactics by the Sri Lankan players in their calls to halt the game Sunday.
However during a previous pollution peak last month, Kohli also expressed concern at the health threat.
"It s a situation which is only getting worse by the day," Kohli wrote in a Facebook post on November 9.
"If we don t act there are going to be massive problems in future. The kids are going to suffer with diseases," he added.
"So look after your family members, look after the children, whose future really depends on how we look after the current situation."