Peshawar Zalmi to host Global Zalmi League next year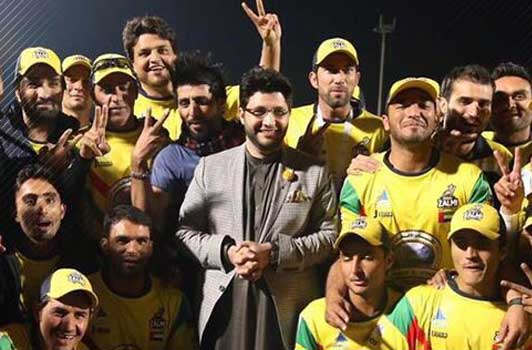 Peshawar Zalmi has announced Global Zalmi team.
ISLAMABAD (Dunya News) – Coming up with yet another initiative, Pakistan Super League (PSL) champions Peshawar Zalmi have announced to host Global Zalmi League next year.
Peshawar Zalmi held Zalmi World Cup before PSL 2 in United Arab Emirates and now Global Zalmi League will be held before PSL 3.
Peshawar Zalmi also announced Global Zalmi team which is selected from last year's Zalmi World Cup held in United Arab Emirates. The team consists of young players from across the globe which had participated in the major event of Global Zalmi.
Abraash Khan from Canada Zalmi has been appointed as the captain of the Global Zalmi team. Team is mixture of highly skilled batsmen and top class all rounders equally supported by spin bowlers.
---
Here is full team of Zalmi Global:
1. Abraash Khan Captain (Canada Zalmi)
2. Junaid Siddiqui (Canada Zalmi)
3. Faizan Amin (Melbourne Zalmi)
4. Rayyan Pathan (Canada Zalmi)
5. Rameez Ahmed (Melbourne Zalmi)
6. Sagheer Afridi (Dubai Zalmi)
7. Juniad Aziz(Bahrain Zalmi)
8. Adnan Khan(China Zalmi)
9. Mohsin Mattoo(Kashmir Zalmi)
10. Yatin Arora Wicket Keeper (Canada Zalmi)
11. Sagheer Afridi (Dubai Zalmi)
12. Usman Sahar (London Zalmi)
13. Zeeshan Khan Emerging (London Zalmi)
14. Jhanzaib Khan Emerging (USA Zalmi)
15. Zeeshan Rehman Emerging (London Zalmi)
---
Chairman PZ Mr. Javed Afridi congratulated and appreciated Global Zalmi players' dedication and becoming part of the squad. Five top players of Global Zalmi League 2018 will practice with PZ team during PSL as part of GZ development program. The chairman also promised a biggest and better Global Zalmi League.