Sangakkara backs Farbrace to shine on England return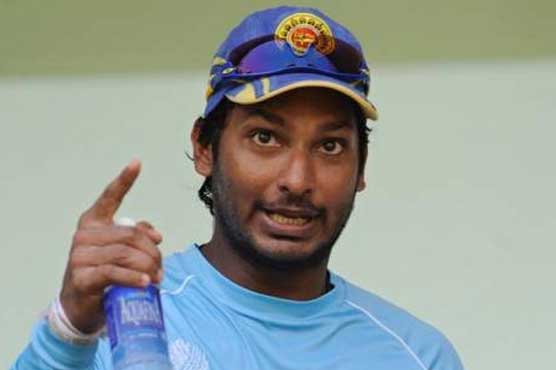 Sangakkara insists Sri Lanka's loss will be England's gain after defection by Paul Farbrace.
DURHAM (AFP) - Kumar Sangakkara insists Sri Lanka's loss will be England's gain after the controversial defection by Paul Farbrace.
The 46-year-old former Kent and Middlesex wicket-keeper shocked Sri Lankan cricket, quitting as the country's head coach in April after just three-and-a-half months to link-up with Peter Moores' new-look England set-up.
Marvan Atapattu takes interim charge for the up-coming tour of Ireland and England as Farbrace settles into his role after earning a significant pay rise to become Moores' number two, the pair given the daunting task of trying to rebuild after the disastrous Ashes Test series humiliation over the winter.
Sangakkara was part of the Sri Lanka side to lift the World Twenty20 trophy earlier this year under Farbrace, who also led the team to Asia Trophy success during a short but highly successful reign that saw him lose just one of his 18 matches in charge.
The 36-year-old batsman, who has joined reigning English county champions Durham on a two-and-a-half week contract ahead of joining with his touring Sri Lanka team-mates, is looking forward to coming up against his close friend over the summer.
Describing the sudden exit of Farbrace as "unfortunate", Sangakkara admits the unexpected departure leaves a sizeable void to fill on the eve of such an important tour.
"Paul is a big loss for us. We enjoyed working with him a few years ago when he was the assistant coach to Trevor Bayliss, and when he came back I think everyone was very excited," said Sangakkara.
"He's a lovely guy and he got on really well with the team. He understood how Sri Lankan cricket works, and his impact was really important for us in those three-and-a-half months. To be part of a team that won the T20 World Cup under him was incredible.
"It's unfortunate the circumstances surrounding how he left, it was probably not nice but England will gain hugely from having Paul in their set-up. He's a top guy, and a wonderful coach. He's very good with people and sometimes that's more important than having all the knowledge in the world."
Sri Lanka's assistant coach for the last 13 months, Atapattu, who missed out on the top job when Farbrace took charge in January, will be assisted this summer by fielding coach, former off-spinner Ruwan Kalpage.
The pair have also been entrusted with team matters for the home series against South Africa in July.
Sangakkara has been linked with a coaching role when he finally retires, but insists he wants to get the most out of what remains of his playing career before weighing-up his options about how he wants to remain involved with the game.
"I still enjoy playing, and wearing the Sri Lankan shirt," he added.
An impressive aggregate of 11,151 runs puts the left-hander ninth on the all-time list of Test run scorers, with an average in excess of 58 in what has been a prolific career.
"There's still a huge enjoyment factor that comes with playing. As players, we're been very, very lucky. It's a high-paid job that allows you to travel the world and earn a living playing outdoors. I can't really complain."
Sangakkara plans to retire from 50-overs international cricket after the next year's World Cup and he added: "That might be my last assignment in that form of the game, and looking at Test cricket, there might be another series left in me.
"It depends on the chat I'll have with the selectors and the authorities back home. I'll be 37 at the end of this year, and I'm fully aware that it's fast-approaching the time when either you go, or you get asked to leave."