TV pundit-turned lawmaker Milei's victory expected to pressure Argentina's peso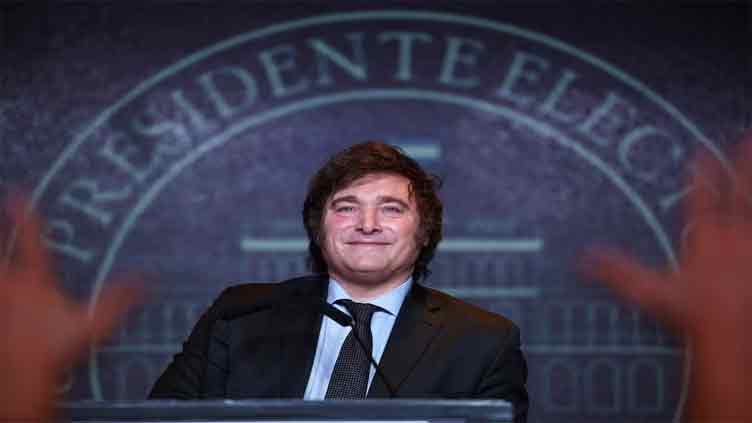 Business
The far-right libertarian rode a wave of voter anger, pledging state spending and govt size
BUENOS AIRES (Reuters) – Argentine far-right libertarian Javier Milei's strong win in Argentina's presidential election run-off will likely put downward pressure on the peso currency though could play better among bondholders, analysts said after the result.
Read more: Dollarisation: Argentina's Milei informs IMF how he wants to divorce peso, adopt dollar
The outsider radical, who has pledged to "burn down" the central bank and dollarize the economy, beat Peronist economy chief Sergio Massa in the Sunday vote, though struck a measured tone in his closely watched first speech as president-elect.
The South American country's markets are closed on Monday for a local holiday, so will only fully trade on Tuesday.
Overseas-listed sovereign bonds and some equities will trade, mainly in Europe and the United States.
"In the short term bonds are going to react positively, but we expect pressure in the FX market due to the uncertainty until Dec 10," said Juan Manuel Pazos, chief economist at TPCG in Buenos Aires, referring to the date Milei takes office.
Read more: Argentina's peso, Pakistan's rupee, depreciation and IMF
In his first speech Milei pledged speedy reforms to fix an economy mired in crisis. Inflation is at 143 per cent, foreign currency reserves are in the red and a recession is looming. But he also signalled moderation and thanked his mainstream conservative backers Mauricio Macri and Patricia Bullrich.
"The fact that Milei said he is willing to broaden the political support and also thanking both Macri and Bullrich is positive," said Martin Castellano, head of LatAm research for the Institute of International Finance (IIF).
"It will help stabilize market sentiment in the next few days. It was a moderate speech, but without big definitions."
Milei, a TV pundit-turned lawmaker with little political experience, rode a wave of voter anger, at times during the campaign pledging an aggressive "chainsaw" plan to slash state spending and the size of government.
Read more: Dollar pull effect: How a weaker currency makes you hostage to dollar
Walter Stoeppelwerth, chief strategist at financial firm Gletir, said Milei needed to stick to his guns, despite some real voter fear about the pain of austerity with two-fifths of the population already in poverty.
"The determining factor is the fiscal commitment. If Milei can convince the market that the chainsaw (fiscal discipline) is the heart and soul of his presidency then bonds rally," he said. "If he moves toward FX unification that is also a positive. He cannot equivocate."
Milei will be buoyed by his larger-than-expected vote take of 56pc in the run-off after he got 30pc in the first round general vote last month. But he still faces a divided Congress where his Liberty Advances bloc only has a small share of seats.
"Implementing a full stabilization plan will be urgent for the new administration, within a 'honeymoon' that could be shorter than usual given the delicate context and where broad political support will be required," said independent economist Gustavo Ber.