Cash-starved Pakistan gets ready for bumper cotton crop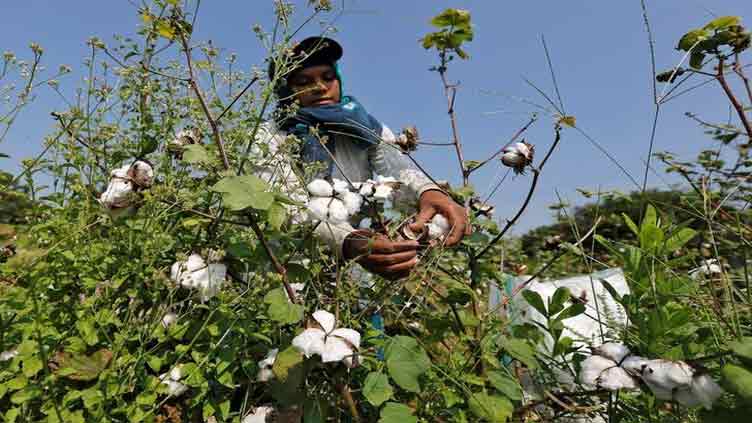 Business
Bale count on September 15 stands at 3.933m bales against 2.187m last year
LAHORE (Web Desk) – Cotton arrivals are witnessing a massive surge in Pakistan with the total reaching 3.933 million bales by September 15, 2023 compared to the same period last year when the figures stood at 2.187m bales – showing a 79.87 per cent year-on-year increase.
The latest data released by the Pakistan Cotton Ginners Association (PCGA) is a great news for Pakistan which has been going the worst economic crisis in its history as the bumper crop will translates into a reduced import bill.
Earlier in March, the US Agriculture Department had said that cotton production was forecast to rebound 36pc to 5.3m bales in 2023/24. "After the flood damaged 2022/23 crop, yields should return to trend, while better returns from competing crops will limit area expansion. Following the sharp decline in cotton use and textile exports in 2022/23, a modest rebound in both is forecast for 2023/24."
It noted that the increased domestic crop would limit expansion in cotton imports. Despite the many economic challenges facing the textile sector, cotton imports through the first seven months of 2023/24 were up about 7 percent compared to the previous year, the US Agriculture Department added.
"As a result, the 2022/23 import and use estimates are increased. Lack of foreign exchange to import raw material and machinery, currency fluctuation, and rising energy prices will continue to constrain the textile sector's growth through 2024."
With cotton-picking starting earlier as we move south in the country, the cotton arrivals in Sindh have jumped by 2.15 times – 2.389 million bales – after the crop was destroyed by the historic floods last year.
On the other hand, the year-on-year surge in the case of Punjab is 44pc after the arrivals totalled 1.544m bales.
Despite being an agri-based economy, Pakistan has been spending a huge chunk of foreign reserves on importing food and other items related to farming.
In 2021, Pakistan was the fifth largest importer of raw cotton in the world with the amount touching a whopping figure of $1.82b. At the same time, raw cotton was the eighth biggest imported product in Pakistan.
Thus, the increase in cotton production after the record-low production last year will also make the textile sector products cheaper amid the rising inflation and cost of production, making these competitive in global markets.