Cabinet approves up to 35pc raise in salaries, 17.5pc in pensions amid trying times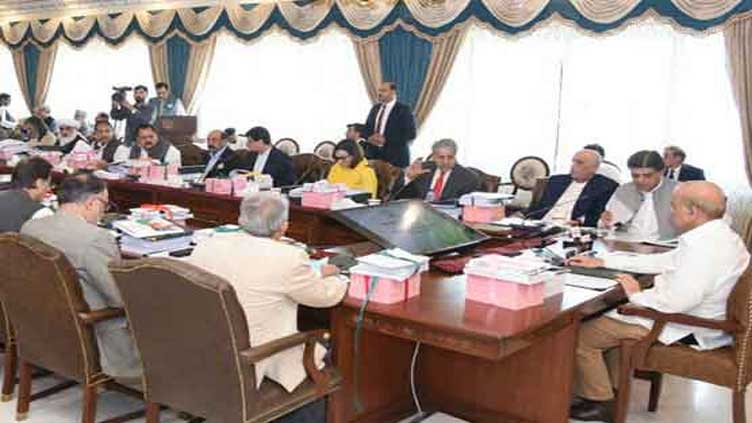 Business
PM Shehbaz underscores need for political stability
ISLAMABAD (Dunya News) - Ahead of tabling the budget for the fiscal year 2023-24 in the National Assembly (NA), the federal cabinet approved finance bill for the year at a meeting held at the Prime Minister House on Friday.
Prime Minister Shehbaz Sharif presided over the meeting which fixed the minimum wages at Rs32,000. Moreover, the salaries of employees of Grade1-16 have been increased by 35pc and Grade 17-22 as much as 30 per cent. Offering relief to the retired government servants, the cabinet announced 17.5pc increase in pensions.
The meeting also approved Rs1,150 billion for development, Rs491.3 billion for infrastructure, Rs86.4 billion for energy, Rs263.6 billion for transport and communication, and Rs41.5 billion for physical planning and construction.
Moreover, the cabinet approved Rs99.8 billion for irrigation department, Rs241.2 billion for societal development, Rs22.8 billion for health, Rs90 billion for sustainable development, Rs60.9 billion for AJK and GB, Rs57 billion for tribal areas merged into KP, and Rs33.7 billion for science and technology.
Addressing a meeting of the federal cabinet, PM Shehbaz said economic stability was linked to political stability, adding that attempts to ensure political instability in the last year brought an economic torpedo. "The state of Pakistan and its institutions are eager to play their role in this regard," he added.
It was the government's responsibility, he said, to increase monthly wages and pension. "The government will deliberate on the move," he added. The government was also eager, he said, to bring gas prices down.
He went on to say that it was the writing on the wall that since the PDM took oath, it was its first priority to seal a deal with the IMF. "The government made all-out efforts to convince the IMF," he added.
"We acted upon all prior actions recommended by the IMF," he said, adding that it would be followed by the approval from the IMF board. "I asked the IMF to show a verbal nod before we filfill all other conditions," he added.
The PM said the government did everything to help the flood victims. He said the country faced an economic loss of $30 billion due to floods. "It was aggravated by trade loss due to Russia-Ukraine war," he added.
He said friendly countries China and Saudi Arabia supported us in a crucial period, adding that the country's economic situation was not suitable enough to give relief to people. "The country's economic progress has slowed down due to global inflation and other challenges," he said.
He said, "we can expect to get good news on agriculture sector front. We can also witness significant growth in agricultural production. The government will establish value-added chains in rural areas." It could render us, he said, the profit of billions of dollars and would lessen the migration to cities.
He also signed appointment of Sheikh Rohail Asghar as adviser on economic affairs.