Markets to close by 8pm all over country to 'conserve energy'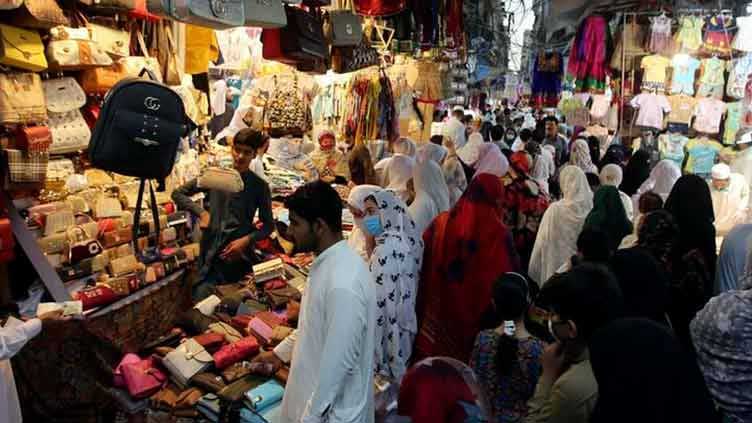 Business
All Pakistan Traders Union rejects government's decision
ISLAMABAD (Dunya News) – The National Economic Council (NEC) on Tuesday decided to close markets countrywide by 8pm.
The decision was taken at a meeting chaired by Prime Minister Shehbaz Sharif and attended by the chief minister of Punjab, Sindh and KP, and planning minister of Balochistan.
Federal Minister for Planning Ahsan Iqbal said the council had taken the decision to conserve energy, adding that commercial centres would close at 8pm. He also advised use of green energy resources including LED bulbs.
All Pakistan Traders Union rejects government's decision

All Pakistan Traders Union (APTU) president Ajmal Baloch said they could not close markets by 8pm in scorching summer. "Every government has registered a failed attempt to close markets by 8pm," he added.
He went on to say that summer saw drop in sales, adding that shopping continued from 8pm to 11pm in summer. "Traders' community is the most expensive buyer of electricity in the country," he added.
APTU supreme council chairman Naeem Mir said this plan could not be materialised without taking all stakeholders into loop. "Provincial governments should first sit with traders," he added.
He went on to say that traders' community buys expensive electricity, asking that if the government would prefer inexpensive buyer to expensive buyer. "How will it affect circular debt," he asked.
He asked if undeclared loadshedding would ensue. "How does the government plan to save traders from extortion," he asked. If all stakeholders, he said, were not taken on board, Mr Iqbal's announcement would hold no value.
NEC approves Rs2,709 for development
Earlier, the NEC approved the annual development programme, with the total volume standing at Rs2,709 billion for the upcoming budget, sources said.
It was decided, according to the sources, that the Centre would spend Rs950 billion under the PSDP (Public Sector Development Programme).
On the other hand, the proposed total outlay for the provinces development programme stands at Rs1,559 billion.
Meanwhile, another allocation of Rs250 billion has been approved under public-private partnership for executing development projects across the country.
Under Article 156 of the Constitution, the NEC is headed by the prime minister as its chairman while the provincial chief ministers are among the members. Meanwhile, there are eight nominated persons too – one each from the four provinces and four from the federal side.
The nominations from the federal and provincial sides are made from time to time for reconstituting one of the top constitutional bodies, which regulates the financial affairs among the Centre and the provinces.
The NEC is responsible for reviewing the overall economic condition of the country as well as advising the federal and provincial governments, and formulating plans in respect of financial, commercial, social and economic policies.
Moreover, the Article 156 also reads that "and in formulating such plans it shall, amongst other factors, ensure balanced development and regional equity and shall also be guided by the Principles of Policy set out in Chapter 2 of Part-II" [of the Constitution].
More to follow ...