Shehbaz reaches out to IMF chief for reviving stalled loan programme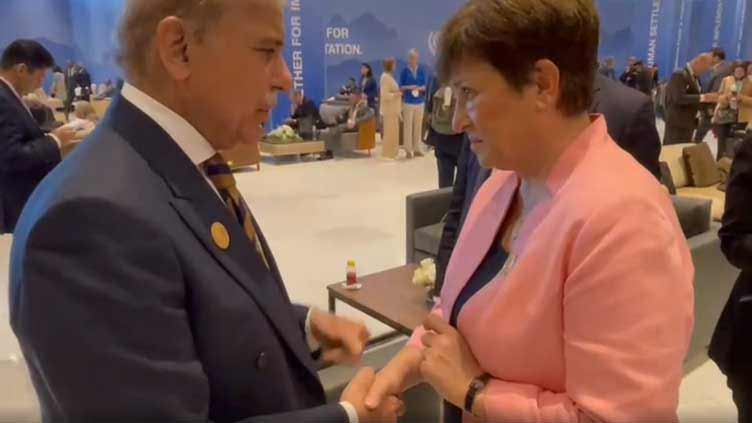 Business
Budget proposals shared with top lender
ISLAMABAD (Web Desk) – Prime Minister Shehbaz Sharif contacted International Monetary Fund (IMF) Managing Director Kristalina Georgieva in a bid to resume stalled programme by completing the pending 9th Review, sources said Tuesday.
The reports emerged after Nathan Porter – who is the IMF Mission Chief to Pakistan – earlier in the day said they were engaging with Pakistan to pave the way for the international lender's board meeting and talks would focus on the budget for next financial year.
According to the sources, the government has shared the budget proposals with the IMF – thus fulfilling a key demand of the world's top lender while the prime minister also directed the finance ministry to prepare the budget in consultation with the IMF.
In an earlier statement, Porter said the IMF programme would conclude on June 30 and added that they won't comment on political developments and domestic policies.
"We take note of recent political developments, and while we do not comment on domestic politics, we do hope that a peaceful way forward is found in line with the Constitution and the rule of law."
About the engagement with Pakistan, he said it was focusing on the restoration of foreign exchange proper market functioning, keeping in mind programme goals in preparation of the upcoming budget, and adequate financing. The objective was to pave the way for a IMF Board meeting before the current programme expired, Porter added.
Ordinarily, a board meeting on a review of the programme would require a prior staff-level agreement, which in Pakistan's case would unlock $1.1 billion in financing for the cash-strapped nation as part of a $6.5 billion IMF package.
But the staff-level agreement has been delayed since November, with more than 100 days gone since the last staff-level mission to Pakistan, the longest such delay since at least 2008.
Porter said that broadly speaking, "overcoming the present economic and financial challenges would require sustained policy efforts and reforms for Pakistan to regain strong and inclusive private-led growth."