Asian shares falter on banking concerns, bonds bet on last rate hikes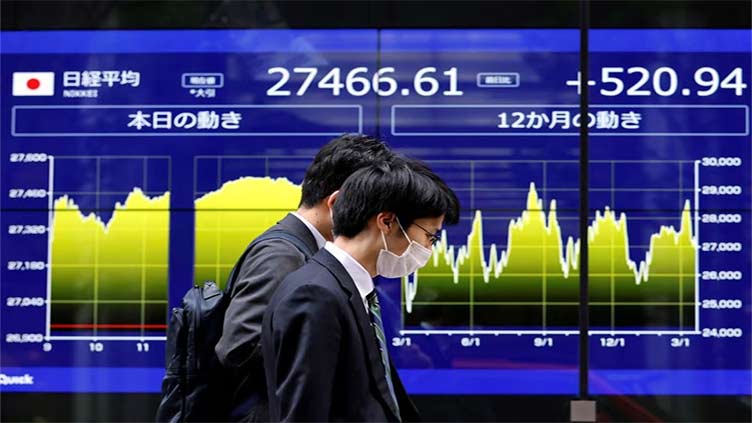 Business
Key parts of the US yield curve steepened, signaling a recession is at the door step.
SYDNEY (Reuters) – Asian shares were lower on Friday as lingering banking stability concerns gripped Wall Street, while bonds bet the recent slew of rate hikes by central banks will be among the last of the cycle, allowing for policy relief later in the year.
MSCI's broadest index of Asia-Pacific shares outside Japan fell 0.6%% on Friday, erasing some of the recent gains to be up 1.7% for the week. Japan's Nikkei also slid 0.4%.
China's bluechips (CSI300) eased 0.4%, Hong Kong's Hang Seng Index lost 0.7%, and both the S&P 500 futures and Nasdaq futures were in the red.
Data out on Friday also showed Japan's manufacturing activity contracted for a fifth straight month in March, adding to evidence of sputtering global demand, while core consumer inflation in Japan eased, although price pressures persist.
On Wall Street, the Dow Jones closed up 0.2% and the S&P 500 rose 0.3%, after a bout of choppy trading late in the day. The Nasdaq Composite Index jumped 1%, as falling Treasury yields boosted shares of technology firms.
Treasury Secretary Janet Yellen said on Thursday that she was prepared to take further actions to ensure bank deposits are safe, a day after saying that blanket insurance was not on the agenda.
"They're still struggling with what they do in terms of uninsured bank deposit...that's what's partly given us the roller coaster ride a little bit in share markets," said Shane Oliver, chief economist at AMP.
"The bottom line is the (Federal Reserve) has raised interest rates aggressively, and they will invariably keep going until something breaks. But at the moment, they're not sure whether something's broken or not, despite the turmoil in banks."
Markets, however, have bet on a recession and incoming rate cuts. Key parts of the US yield curve steepened, signaling a recession is at the door step.
Investors are also leaning towards a pause from the Fed at the policy meeting in May, after the latest dovish hike on Wednesday.
They have also priced in rate cuts of accumulated 80 basis points to about 4% by the end of the year amid fears of policy tightening and a brewing banking crisis drive the economy into a recession, despite the pullback from Chair Powell.
"It is an environment of uncertainty. I mean, it's not as if the Fed knows either and the market could be right," said Oliver at AMP.
Treasury yields were trying to find a floor amid the market volatility. Two-year Treasury yields, which fell a whopping 125 basis points within just two and a half weeks, were steady at 3.8288% on Friday.
Ten-year yields held at 3.4079%, after edging 9 basis points lower in the previous session.
The Bank of England overnight raised borrowing costs for the 11th time in a row after a nasty inflation surprise, but said a resurgence in inflation would probably fade fast, prompting speculation it had ended its run of hikes.
The Swiss National Bank also jacked up rates despite a torrid week following the takeover of Credit Suisse.
The US dollar was headed for a heavy 1.2% weekly loss against its major peers at 102.63, not too far away from a seven-week trough of 101.91.
The euro came off from its seven-week high of $1.0929 overnight and stabilises at $1.083, while the yen was nearing its six-week high at 130.7 per dollar.
Oil prices fell on Friday, with U.S. crude easing 1%at $69.27 a barrel, while Brent crude also skidded 0.9% at $75.21 per barrel.
Gold was slightly lower. Spot gold was traded at $1,992.09 per ounce, close to the highest level in a year.