Commerce minister assures to resolve garments exporters' liquidity problems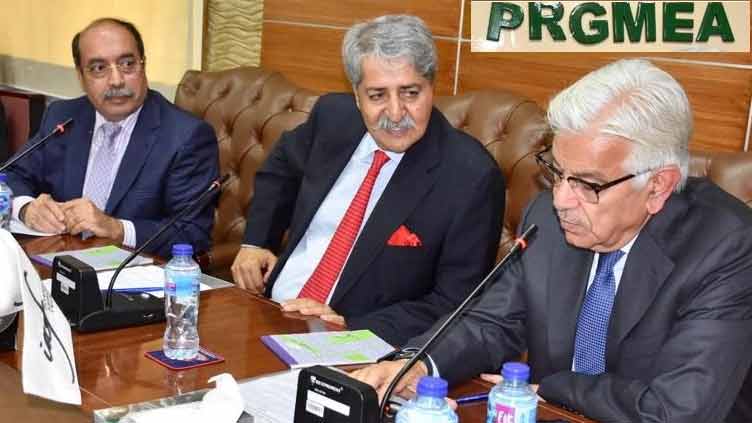 Business
PRGMEA has called for establishing Sialkot Garment City
ISLAMABAD (Web Desk) - Federal Minister for Commerce Syed Naveed Qamar has agreed with the demands of apparel exporters to resolve the issue of liquidity crunch faced by the SMEs due to blockage of sales tax refunds, that is creating crucial cash flow problem for the garment exporters to cater the new orders.
The commerce minister attended an interactive session along with Defence Minister Khawaja Asif and TDAP Director General Shahzad Ahmed Khan, in his maiden visit to Sialkot on request of Pakistan Readymade Garments and Exporters Association (PRGMEA), says a release issued by the association on Sunday.
The session was also largely attended by the exporters from all industrial export-oriented sectors. The minister was quite impressed with the activity of Sialkot-based garment exporters and overall PRGMEA participation in economic growth from Lahore and Karachi members.
Minister Qamar said that he would convene a meeting with the officials of Federal Board of Revenue (FBR) to resolve this issue on urgent basis, adding the government was committed to providing a level-playing field and reducing the cost of doing business for export-oriented sectors including textile whole chain.
"This will help boost exports and reduce the current account deficit. He stated that it is time to promote value-added products and that the government will provide incentives for this purpose as soon as the economic conditions get better."
Qamar further said his ministry had formulated the Textiles and Apparel Policy 2020-2025, which will address matters including value addition, product diversification, skill development, productivity and ease of doing business.
"We need to attract investment in the textile and apparel sector to enhance our manufacturing capacities, saying that the SMEs across the world are engines of growth for any country," he said and added that in the global textile industry Pakistan has less than 2% share which needs to be enhanced with practical steps.
The commerce minister said that export-led economic growth is the only viable solution towards achieving national prosperity. Acknowledging the role played by Sialkot-based exporters in earning foreign exchange for the country, Naveed Qamar appreciated the revolutionary initiatives taken by the business community of this industrial city.
He assured the PRGMEA of his all-out support to provide an enabling environment to increase exports, stressing the members to keep the close liaison with the commerce ministry for their input in policy making for growth of value-added apparel exports.
International Apparel Federation (IAF) regional chief and ex-chairman of the PRGMEA Ijaz Khokhar, in his welcome address, presented core demand of PRGMEA to establish Sialkot Garment City like Lahore and Faisalabad's ones, the approval of which is already a part of textile and apparel policy 2020-25.
He also requested him for the completion of Garment Technical Training Centre in Sialkot for which the PRGMEA has done the procurement of land and now it was seeking for the funds to build up the building with the funds of exporters' own export development funds (EDF).
The Minister showed his consent and Khawaja Asif also supported this demand for the cause of the Sialkot industry's growth because currently there is ample of garment business available but due to shortage of skilled workers, they are not being materialized.
Khokhar committed with the minister if these two projects are completed the exports of Sialkot garments can be doubled to the level of $1 billion from current figure of almost $500 million.
He stated that PRGMEA is the main value-added stakeholder of apparel sector in Pakistan with its presence in Karachi, Lahore and Sialkot. Apparel industry is playing pivotal role as it's a major foreign revenue earner, largest employment generator and the highest tax payer segment of our economy.
Khokhar requested the Ministry of Commerce to implement the Textile & Apparel Policy 2020-25, calling for conducting quarterly review to achieve the selected goals.
He said that currently Pakistan's product basket has only few articles. "We can add new products but due to lack of new fabrics we are unable to produce, as we are dependent on imports. So, we need to form soft import policies for re-export, as the policies available are not friendly for SMEs which are more than 90% of total exporters. At present, available EFS Scheme is not SMEs' friendly," he added.
Khokhar said the prevailing utility prices have made it difficult to compete in the region. "We do understand that the government financial issue and IMF conditions due to which subsidies withdrawn on utility. To sustain our export, we suggest the restoration of DLTL/DDT which is the part of Textile & Apparel Policy 2020-25, as this support will help us to sustain in the market."