China's economic activity uneven in Jan-Feb after Covid reopening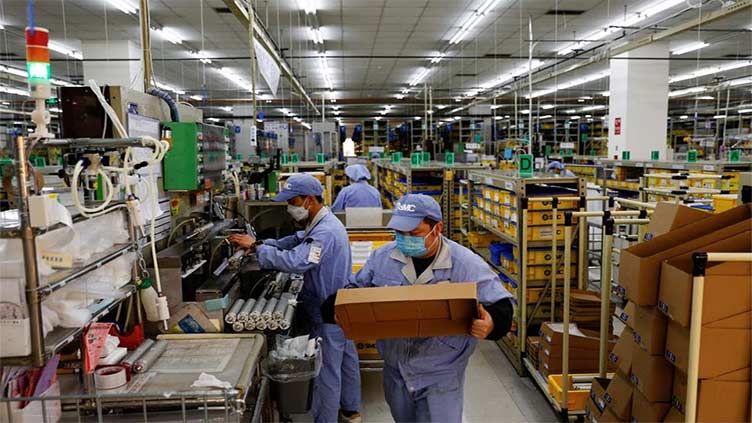 Business
Fixed asset investment in the first two months was 5.5% higher than a year earlier.
BEIJING, (Reuters) - China's retail sales in the first two months of 2023 swung back to growth, but factory activity expanded slightly slower than expected, suggesting the bruised economy still needed time to fully emerge from pandemic damage.
Property investment in the January-February period fell again as home buyers and developers remained cautious despite a slew of supportive government policies.
Industrial output in the January-February period was 2.4% higher than a year earlier, data by the National Bureau of Statistics (NBS) showed on Wednesday, slightly missing expectations for a 2.6% gain in a Reuters poll. The reading accelerated from a 1.3% annual rise in December.
Retail sales in the first two months jumped 3.5% from a year before, reversing a 1.8% annual fall seen in December. The result was in line with analysts' expectation and with hopes for an economic revival led by consumption as flagging global demand weakens Chinese exports.
The mixed data portrayed an uneven recovery in economic activity following China's abrupt abandonment late last year of its three-year-long campaign to control Covid-19.
It pointed to "a steady rather than accelerating momentum", said Zhou Hao, chief economist at Guotai Junan International. It indicated that strong policy support was needed to unleash the growth potential, he said.
Fixed asset investment in the first two months was 5.5% higher than a year earlier, compared with expectations for a 4.4% rise. Government support appeared to have helped, said Zhou.
For all of 2022, fixed asset investment was up 5.1% on 2021.
Within January-February fixed-asset investment, infrastructure investment surged 9.0% from a year before.
However, property investment in the two months was still down 5.7% on the same period of 2022, after showing an annual fall of 12.2% in December.
LIQUIDITY INJECTIONS
The NBS publishes combined January and February data to smooth out distortions caused by the Lunar New Year holiday, which fell in January this year but was in February in 2022.
The central bank ramped up liquidity injections on Wednesday when rolling over maturing medium-term policy loans for a fourth month in a row. It also kept its policy interest rate unchanged. Both decisions matched market expectations.
China has set a modest annual growth target of around 5% this year after significantly missing its target for 2022 and recording one of its worst showings in nearly half a century.
Achieving the 2023 target would not be an easy task and would require more effort, new Premier Li Qiang said on Monday.
The government prioritised economic growth and employment in a work report delivered to the annual meeting of parliament, which wrapped up on Monday. Authorities set a goal of creating around 12 million urban jobs this year, up from last year's target of at least 11 million, and warned that risks remained in the real estate sector.
In the first two months, the nationwide survey-based urban jobless rate climbed to 5.6% from 5.5% in December.
Employment was basically stable, and seasonal factors had caused the rise in the jobless rate for February, NBS spokesman Fu Linghui told reporters.