KSE-100 gains 770 points amid hopes of IMF review completion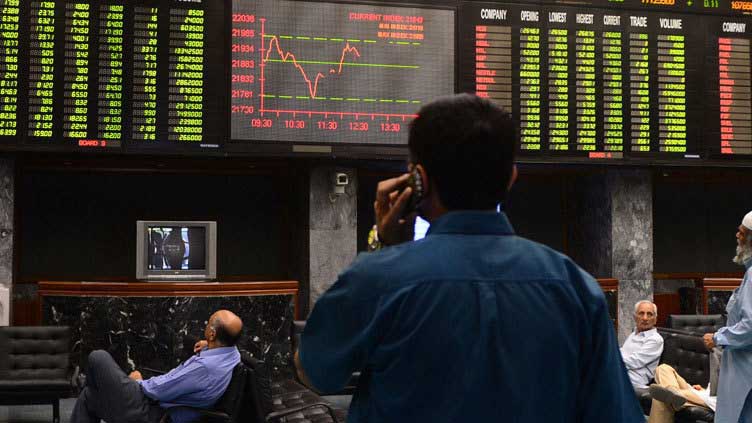 Business
KSE-100 gains 770 points amid hopes of IMF review completion
KARACHI (Dunya News) - Bulls prevailed at the Pakistan Stock Exchange (PSX) in early trading session on Wednesday amid hopes of completion of the ninth review of the IMF programme.
The benchmark KSE-100 index climbed to 39,825.80 points, up 413.82 points, or 1.97 per cent, at 11:45am. As many 294 companies are participating in the trading session today.
On Tuesday, the PSX continued with bullish trend, gaining 612.06 points, a positive change of 1.59 per cent, closing at 39,055.65 against 38,443.59 points the previous day.
A total of 179,760,927 shares were traded during the day as compared to 81,287,333 shares the previous day, whereas the price of shares stood at Rs6.368 billion against Rs2.809 billion on the last trading day.
As many as 326 companies transacted their shares in the stock market; 225 of them recorded gains and 74 sustained losses, whereas the share price of 27 companies remained unchanged.
The three top-trading companies were Pak Petroleum with 13,159,970 shares at Rs78.15 per share, Maple Leaf with 12,487,144 shares at Rs20.50 per share, and WorldCall Telecom with 11,869,660 shares at Rs1.14 per share.
Pak Services witnessed a maximum increase of Rs146.67 per share price, closing at Rs2,130.00, whereas the runner-up was Reliance Cotton with a Rs48.75 rise in its per share price to Rs698.75.
Sapphire Tex witnessed a maximum decrease of Rs82.00 per share closing at Rs1,018.00, followed by Wah-Noble with Rs.11.45 declines to close at Rs147.50.