SBP's reserves plummet to perilous low of $4.34 billion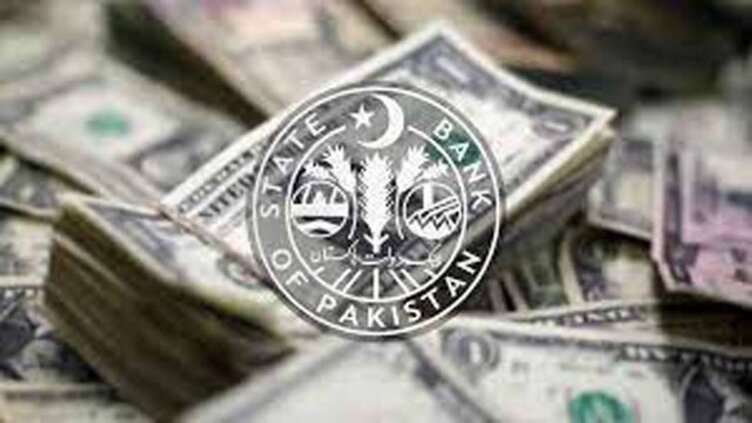 Business
Reserves decrease further $1.23 billion; Commercial banks' reserves separately at $5.85 billion
LAHORE (Web Desk) - State Bank of Pakistan s (SBP) foreign exchange reserves decreased noticeably by a staggering $1.23 billion to a perilously low level of $4.34 billion, according to data issued on Thursday. The level of SBP s reserves is the lowest since February 2014.
The entire amount of the country s liquid foreign reserves was $10.19 billion of which commercial banks have $5.85 billion in net foreign reserves.
The SBP said that during the week ending January 6, foreign loan repayments resulted in a $1.233 billion decline in reserves to $4,343.2 million.
Pakistan paid off more than $1 billion in foreign debt to international financial institutions on Friday of last week. Pakistan paid back $420 million to the DIB and $600 million to the Emirates NBD Bank.
SBP s foreign exchange assets had decreased by $245 million from the previous week to $5.58 billion. Central bank reserves, which were over $18 billion at the start of 2022 have considerably dropped underlining the urgent need for Pakistan to complete the next IMF program evaluation.
Pakistan is making payments on its obligations to pay off its international debt even though it has a serious shortfall of foreign exchange reserves in order to stay in compliance.
Prime Minister Shehbaz Sharif's visit to UAE is only one illustration of the efforts being taken by the government to guarantee dollar inflows. UAE agreed to prolong the present loan of $2 billion and provide a fresh loan of $1 billion, according to PMO.
Additionally, a deal for the financing of oil derivatives worth $1 billion to Pakistan was signed by Pakistan and the Saudi Fund for Development (SFD).
Pakistan also got commitments of around $10 billion at the Geneva summit on a "climate resilient Pakistan."