Dollar crosses Rs200 mark in open market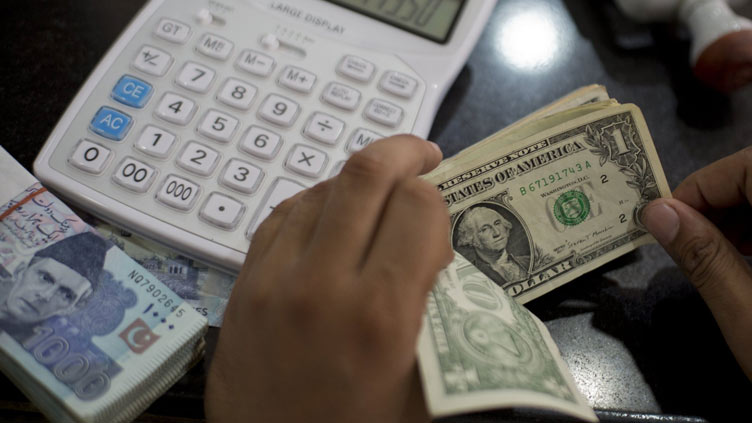 Business
The greenback was being quoted around Rs198.5 in interbank market
KARACHI (Haris Zamir) - Economic crisis has deepened because of the continuous climb in value of dollar against Pakistani rupee where currency received fresh beating and lost 1.34 percent or Rs 2.56 against greenback.
Dollar rising streak continued unabated since the arrival of the new government where there has been immense of the economic revival fading after every passing session.
It is pertinent to mention that since the arrival of the new government dollar at interbank has been up by Rs 15.46 while in open market up by Rs 15.50 to trade around 198.38 rupees and 200.50 respectively.
There has been volley of speculation before the arrival of the new government they would convince the brotherly countries to roll over some of the loans and disburse fresh blood in the shape of dollars. However, the new government failed to get any fresh support from China, UAE and Saudi Arabia. Even could not be able to double the deferred amount to get oil imports on monthly basis.
Since over a last month, the foreign exchange reserves have received severe beating and the reserves are down by almost $5.4 billion dollars. Currently Pakistan has $10.2 billion worth of foreign exchange reserves which are not even able to cover the six weeks of import bill.
The country has been dire need of foreign exchange; though the government took decision to increase duties on some of the imported products. But according to an analyst the decision has taken late it should be announced when this incumbent government resumed the office last month. Moreover, the decision would only curtail around $800 to $1 billion worth of imports, which has been a peanut.
The government has to take some bold decision to restore the confidence of the IMF for the resumption of loan stream. They first should reduce the subsidy amount on petrol and diesel which costing the exchequer by Rs 120 billion a month in May and some Rs 88 billion in April, that has to be reviewed on war footing basis.
The IMF nod will help unlock the loan approvals from Asian Development Bank and World Bank. Even there is a possibility that IMF approval of seventh tranche will also convince UAE, Saudi Arabia and China to revive the loan amount and roll over.
Overall the rupee has been under pressure till government receive IMF nod the rupee to remain under pressure and we would daily see new high of dollar value against Pakistani rupee.