Shares dip at PSX as benchmark loses 828 points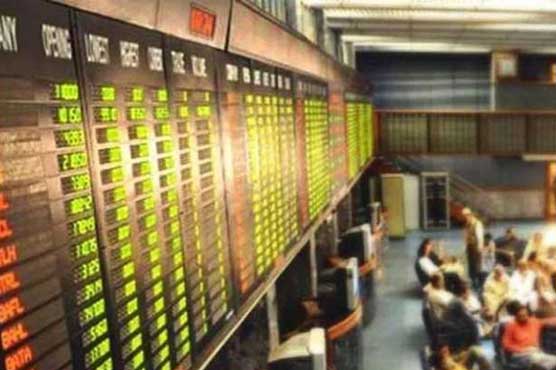 Valuations are attractive for medium term given current risk-free rate, currency stability
KARACHI (Dunya News) – The KSE-100 index declined by 828 points the lowest since the beginning of 2021 below 45,000 level on concern of higher interest rate, income tax exemptions removal and government s move to pass autonomy bill for the central bank. The KSE index closed at 44,223 points, the lowest level during CY21TD).
During last two sessions the index declined by 3.5% (-1,614 points) which is the highest decline for two consecutive days after 02-Nov-20 (-2,075 points).
Muhammad Saeed Khalid, head of research at Shajar Capital said that plunging of the KSE100 index was mainly witnessed during on the asian equity sell off along with the enraging political turmoil in the country.
"We have noticed benchmark index slumped by 1,105 points during the day mainly due to aggressive selling in Construction and Power sector", he said.
Despite news about rising OMCs margins by the ECC along with the recovery in the int l Crude oil prices we have noticed heavy selling in the Oil scrips mainly on the profit taking activity, said Saeed Khalid.
A.A. Soomro, managing director at KASB Securities said that the decline remained sharp as investor voiced concerns over sharp selling from Mutual Funds yesterday amid excessive leverage in the market.
Similarly, fears of tax reversals/new taxes in Money Bill approved by the Prime Minister may also dampen market sentiment as investors await full & final impact of govt measures to increase taxation.
"To recall: Next fiscal year tax target is Rs 6tn. While the temporary selling from mutual funds might subsidy in few days, Senate Chairman election this Friday might (hopefully) reduce political temperatures, said Soomro.
Individual investors are still on the buying spree. IMF s expected tranche/approval would pave way for global bond issuance & reduced credit risks.
Valuations are attractive for medium term given the current risk-free rate, currency stability & earnings growth. It s time to withstand the turmoil. Fruits shall follow.
Muhammd Abdur Rafay, research analyst from Pearl Securities said that the KSE-100 marked another bloodbath session on account of political and economic uncertainty as the federal government has finally agreed to give absolute autonomy to the State Bank of Pakistan (SBP) to restore the delayed International Monetary Fund (IMF) programme.
Moreover, the cabinet has given approval to remove corporate tax exemptions to recover Rs 150-200 billion in coming months.
Meanwhile, mutual funds redemption continues to exert selling pressure across the board, he said. All shares volumes stood at 492 million shares as compared to 449 million shares traded yesterday.
Details by Harris Zamir