Last Updated On 19 October,2019 10:36 am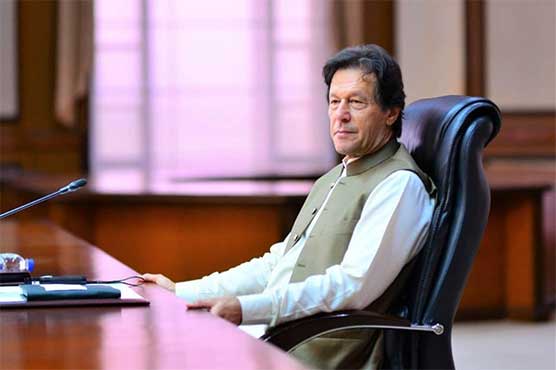 The tweet also mentioned that remittances from overseas Pakistanis grew by 17.6 percent.
ISLAMABAD (Dunya News) – Prime Minister Imran Khan on late Friday night termed it "a great achievement" of the government's economic team that the country's economic state has improved within a year.
In a tweet shared by the premier on his official Tweeter account, the PM outlined that the country's exports have increased by 5.9 per cent and the imports have declined by 18.5 per cent.
Within a year, he further pointed out that the current account deficit has been decreased substantially and it hit 41-month low in September this year.
The tweet also mentioned that remittances from overseas Pakistanis grew by 17.6 percent.
It is a great achievement of our economic team to turn around the economy within a year pic.twitter.com/4j8za4uSMe

- Imran Khan (@ImranKhanPTI) October 18, 2019
Importantly, it revealed that foreign direct investment has increased by 111.5 per cent and foreign private investment has climbed by 194 per cent.
On Oct 12, during a press conference, Advisor to the Prime Minister on Finance Dr Abdul Hafeez Sheikh stated that Pakistan's trade deficit has narrowed by 35 percent [to $5.7 billion in the first quarter due to compression of imports].
"In the last three months, [the government] has not taken any loan from the State Bank of Pakistan and that has constrained the inflation […] we have not taken supplementary grants to put a check on the expenditures. […] 500,000 people have been brought under the tax net," he said.
He mentioned the government had taken tough decisions that resulted in fruitful outcomes. "Pakistan has controlled two massive deficits […] trade deficit has reduced by 35 percent and fiscal deficit has squeezed by 36 percent in the first quarter of FY20 whereas expenditures of the civilian government have been substantially decreased by Rs40 billion, including spending of the Prime Minister's Office," he stated.
"The fiscal deficit has narrowed to Rs476 billion as compared to last year's Rs738 billion in the same corresponding period."
"Revenue has been increased by 16 percent […] the government has approved subsidies for the export sector […] in the previous governments, billions of dollars were wasted to restrict the exchange rate to a certain extent," Sheikh remarked, while pointing out that no increase in the export sector could be observed in the last five years.
Hafeez Sheikh said that the non-tax revenue has contributed Rs406 billion in the first quarter of FY20. He said this was 140 percent more as compared to the corresponding period of the last year. "This is a big achievement," he said, while expressing confidence that the government expected the non-tax revenue to be raised to Rs1,600 billion during the current fiscal year.
"In our budget, we have a Rs1,200 billion target, but I want to share the good news with you that we will increase this by Rs400bn and are confident to take it to Rs1,600bn."
"However, in the last three months, the exchange rate observed stability […] foreign investment has been increased by $340 million," he went on to say.