Pakistan stocks close negative amid lacklustre trading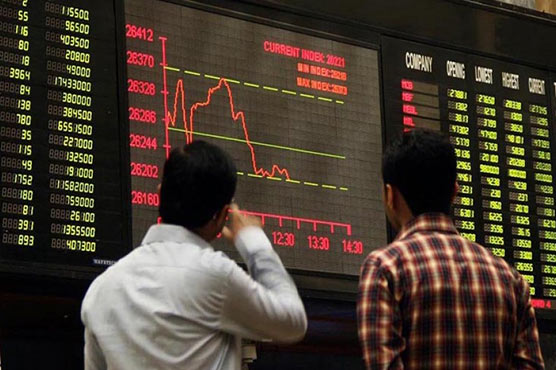 The KSE-100 Index closed its week at 40,016 level on Friday.
(Web Desk) - The capital market for the third consecutive week witnessed downward trend where investors stayed away from the market, shrinking the volume amid war hysteria by India against Pakistan.
Pakistan, however, has been offering resolution of certain issues through dialogue with India.
The KSE-100 Index closed its week at 40,016 level after shedding 471 points or 1.2 percent during the outgoing week.
Sector-wise, the average daily volumes for the outgoing week were down by 22 percent to 105 million shares.
Likewise, value traded decline by 14 percent to $39 million.
An analyst from Topline Securities said that the benchmark index continued declining as it closed in the red for a third consecutive-week, down 3 percent during the week.
The recent visit by the Saudi crown prince to Pakistan, has been unable to alter investors' sentiments due to crumbling Indo-Pak relations despite of signing of Memoranda of Understanding (MoUs) amounting to $20 billion between Pakistan and Saudi Arabia.
An analyst from JS Group said during the week, statements from the other side of the border to isolate Pakistan diplomatically, moves such as imposition of 200 percent customs duty on Pakistani exports into India and other punitive measures caused market participants to proceed with caution and had an overbearing impact on performance.
He added that corporate results that were generally in line with or higher than expectations in some cases did little to improve the trend.
At the same time, there might have been a collective sigh of relief for policymakers as the current account deficit during the month of January declined by 48 percent compared with December on the back of a sharp reduction in trade deficit, whereas some support for overall balance of payments was also visible via loans from friendly countries.
Foreign buying continued this week clocking-in at USD 3.5mn compared to a net buy of $12.1 million last week.
Major buying was witnessed in Cements with $3.3 million and Commercial Banks with $1.4 million.
On the local front, selling was reported by Individuals worth $4.7 million, followed by Companies with $1.0 million.
Meanwhile, an analyst from BMA Capital Management said that the government is widely expected to inject some liquidity into the energy sector over the coming week, materialization of which may ignite investor sentiments in the space energy.
Furthermore, equity analysts expect that Pakistan's potential entry into an International Monetary Fund (IMF) programme by the end of April or start of May would boost investor's confidence.
Details by Haris Zamir