Qatar requires 0.1 mln skilled workers from Pakistan for FIFA World Cup preparations: Ambassador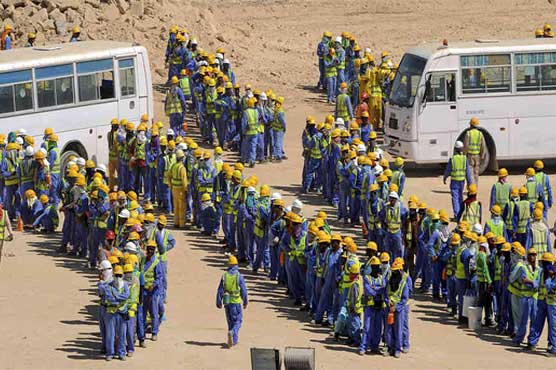 The Qatari envoy appreciated efforts of transforming the skill development sector in Pakistan.
ISLAMABAD (APP) - Ambassador of Qatar to Islamabad, Saqar Bin Mubarik on Thursday said his country would require more than 0.1 million Pakistani skilled workers for development and construction work underway in connection with FIFA Football World Cup 2022, to be held in Qatar.
The Government of Qatar desires that the maximum workforce required in this regard should come from Pakistan, said the Ambassador in a meeting with the Executive Director National Vocational and Technical Training Commission (NAVTTC) Zulfiqar Ahmad Cheema.
The meeting was held with an aim to enhance cooperation in the field of Technical and Vocational training between the two countries in which the Executive Director NAVTTC briefed the Ambassador of Qatar regarding progress of TVET sector in Pakistan.
He said that the focus of the government in recent years has been on improvement of quality of training in TVET Sector of Pakistan.
The Executive Director further said that the standards of technical education have been brought at par with the international standards and Pakistani Skilled workforce can cater to the needs of any country.
The Ambassador of Qatar appreciated the efforts of transforming the skill development sector of Pakistan on modern lines.
While praising the Pakistani skilled workers he further added that labour from Pakistan is very hardworking and has played a pivotal role in completion of many development related projects in Qatar in the past. We will continue cooperation with NAVTTC look for opportunity of continuous provision of skilled manpower from Pakistan to Qatar, he added.
In the end Zulfiqar Ahmad Cheema thanked the Ambassador and assured him that Pakistan will continue its efforts to provide skilled workforce for all the required sectors in Qatar.