Who are the candidates running in the 2024 US presidential election?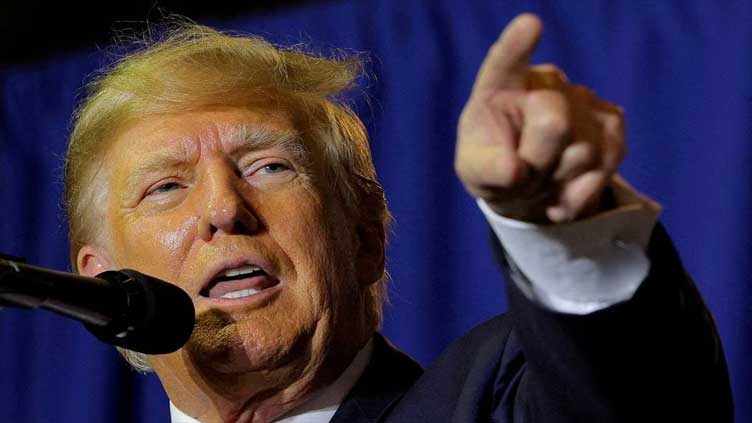 World
Who are the candidates running in the 2024 US presidential election?
(Reuters) - Former US Vice President Mike Pence on Wednesday launched his campaign to run for president, challenging his former boss Donald Trump and a growing list of Republicans seeking to unseat Democratic President Joe Biden.
Here are some of the 2024 hopefuls in both the Democratic and Republican parties.
REPUBLICAN PARTY

DONALD TRUMP
Trump, 76, announced his election campaign last November as he faced some of the loudest criticism yet from within his kRepublican Party over his support for far-right candidates who were defeated in the midterm elections. Like Biden, he remains unpopular with great swaths of the electorate. But he has retained a firm grip on his base and strengthened his standing in polls after he was indicted by New York prosecutors in connection with an alleged hush money payment to a porn star. Trump is the front-runner in the Republican race.
RON DESANTIS

After the glitch-filled launch of his campaign on Twitter in May, DeSantis has moved to further position himself to the right of Trump on a number of main issues. DeSantis, 44, who ranks second to Trump in most polls, has already signed bills imposing new restrictions on abortion and further loosening gun laws, positions that may help him in the Republican primaries but would likely hurt him among independent and more moderate voters in the general election. His battle with Walt Disney Co (DIS.N) over its Florida theme park has unnerved some donors, as has his mixed messaging on continued U.S. support for Ukraine.
TIM SCOTT

The only Black Republican U.S. senator has low name recognition outside his home state of South Carolina, but his optimism and focus on unifying his divided party have helped him draw a contrast with the more aggressive approach by Trump and DeSantis. Scott supporters, however, acknowledge that while his sunny demeanor is a selling point it may not be enough to win. Scott, 57, has only 1% of support among registered Republicans, according to Reuters/Ipsos polling. He launched his campaign on May 22.
NIKKI HALEY

A former governor of South Carolina and Trump's ambassador to the United Nations, Haley, 51, has emphasized her relative youth compared to Biden and Trump as well as her background as the daughter of two Indian immigrants. Haley has gained a reputation in the Republican Party as a solid conservative who has the ability to address issues of gender and race in a more credible fashion than many of her peers. She has also pitched herself as a stalwart defender of American interests abroad. She attracts about 4% support among Republican voters.
VIVEK RAMASWAMY

A former biotechnology investor and executive, Ramaswamy, 37, started a firm in 2022 to pressure companies to abandon environmental, social and corporate governance initiatives. He announced in February he was running for the Republican nomination. The political outsider has excited a lot of grassroots chatter as a potential alternative to Trump but he remains a long-shot candidate.
MIKE PENCE

Trump's vice president has broken with his former boss over the 2021 attack by Trump supporters on the U.S. Capitol, while Pence was inside the building. Pence, 64, says "history will hold Trump accountable" for his role in the attack. However, Pence, like other Republican White House hopefuls, came to Trump's defense after New York prosecutors charged him in the hush money case, underscoring the fear of alienating Trump's supporters in the primaries. Pence, a staunch conservative, is appealing directly to the evangelical Christian community.
CHRIS CHRISTIE

Former New Jersey Governor Chris Christie, 60, who advised Trump's White House campaign in 2016 only to become a vocal critic of the former president, formally launched his campaign on Tuesday and enters as a decided underdog. Only 1% of Republicans said he would be their preferred 2024 nominee in a Reuters/Ipsos poll conducted May 9-15.
ASA HUTCHINSON
The former Arkansas governor launched his bid for the White House in April with a call for Trump to step aside to deal with his indictment. Hutchinson, 72, has touted his experience leading the deeply conservative state as proof he can deliver on policies Republican voters care about, citing tax cuts and job creation initiatives as particular sources of pride. Still, his name recognition remains limited outside Arkansas.
DOUG BURGUM
Burgum, who is serving his second term as North Dakota's governor, launched his campaign on Wednesday. Burgum, 66, built a successful software business before selling it to Microsoft in 2001. A proponent of low taxes and fewer regulations, he will likely seek to portray himself as a traditional conservative who will focus on the economy and national security.
DEMOCRATIC PARTY
JOE BIDEN
Biden, 80, already the oldest U.S. president ever, will have to convince voters he has the stamina for another four years in the White House, amid voter concerns about his age and his weak approval ratings. Biden allies say he is running because he feels he is the only Democratic candidate who can defeat Trump. In announcing his candidacy he declared it was his job to defend American democracy. He does not face a serious threat from a Democratic challenger.
MARIANNE WILLIAMSON

The best-selling author and self-help guru has launched her second, longshot bid for the White House. She ran as a Democrat in the 2020 presidential primary but dropped out of the race before any votes had been cast. She launched her latest campaign on March 23.
ROBERT KENNEDY JR.
An anti-vaccine activist, Kennedy, 69, is making a long shot bid to challenge Biden for the Democratic nomination. He is the son of U.S. Senator Robert F. Kennedy, who was assassinated in 1968 during his own presidential bid. Kennedy was banned from YouTube and Instagram for spreading misinformation about vaccines and the COVID-19 pandemic. His Instagram account was reinstated after he said he was running.