Last Updated On 07 March,2018 09:53 am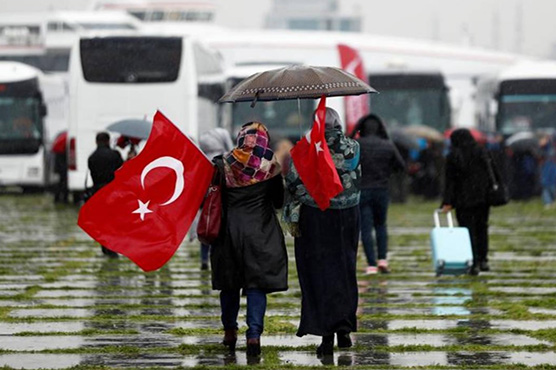 The convoy of buses is expected to reach the southern Turkish province of Hatay on Thursday, International Women's Day. Photo: Reuters
(Reuters) - An international group of 2,000 women set off from Istanbul on Tuesday for Turkey's border with Syria, part of a "conscience convoy" to raise awareness of the plight of Syrian women after seven years of civil war.
The convoy of buses is expected to reach the southern Turkish province of Hatay on Thursday, International Women's Day.
The multi-sided conflict in Syria has killed hundreds of thousands of people and displaced millions from their homes, and the group of activists, from 55 countries, aims to highlight the plight of women in prison in particular.
"We need the world to take the best and quickest measures for the protection of women in all wars, not just those in Syrian prisons," said Nour, a Syrian activist, who declined to give her full name. She said she was unjustly imprisoned for a month by the government of President Bashar al-Assad for her humanitarian work.
"Women have been exposed to war, suffering, asylum, and forced displacement in all countries subjected to war. We call on the entire world to protect women," she said.
Organisers of the convoy say that 6,736 women, including 417 girls, are currently being held in prisons in Syria. Thousands of women have also been identified as having been subjected to torture, rape or other inhumane treatment in Syrian prisons since the war began, they said.
Assad's government has denied allegations of systemic torture, as well as allegations of widespread war crimes by government-backed forces and Syria's security services.
Massive displacement, both inside Syria and across its borders, has left millions of women and girls vulnerable to sexual violence and trafficking, the United Nations says. The collapse of the economy and healthcare system is also seen disproportionately affecting women.
"No matter what religion, race or ethnicity, women from the world are coming together today to start a journey of humanity," said Yvonne Ridley, a Scottish activist. "We are setting off on this journey to be among those, to help those who are in Syrian prisons."