Last Updated On 10 October,2017 12:02 pm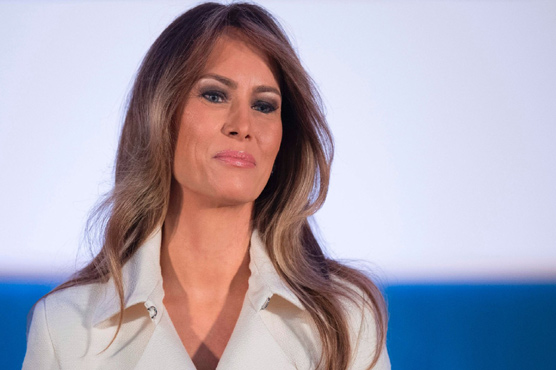 The former Mrs.Trump during her interview to ABC New attempted a little joke when describing her longstanding relationship with the 45th US president. Photo: AFP
(Web Desk) – President Trump's first wife, Ivana Trump in an interview called her "first lady" ahead of the release of her memoir, "Raising Trump."
After Ivana Trump's interview Donald Trump's current wife Melania fired back and slammed her comments by calling her "attention-seeking and self-serving noise", reported CNN.
The former Mrs.Trump during her interview to ABC New attempted a little joke when describing her longstanding relationship with the 45th US president.
"I have the direct number to White House but I don t really want to call him there because Melania is there, and I don t really want to cause any kind of jealousy or something like that because I m basically first Trump wife, OK? I m first lady, OK?" she told ABC, with a laugh.
Melania Trump, 47 and normally very reserved, was not amused, reported by AFP.
---
Ivana Trump says she has Pres. Trump s direct White House number: "I m basically first Trump wife. I m first lady." https://t.co/SiTlUUDX2S pic.twitter.com/0DQ5AMQ311

— Good Morning America (@GMA) October 9, 2017
---
"Mrs. Trump has made the White House a home for Barron and the president," said a tersely worded statement from her spokeswoman Stephanie Grisham, published by CNN. Barron is the Trumps young son.
"She loves living in Washington, DC, and is honored by her role as First Lady of the United States."
"She plans to use her title and role to help children, not sell books," Grisham said.
She added: "There is clearly no substance to this statement from an ex. This is unfortunately only attention-seeking and self-serving noise."
Ivana Trump is the mother of Trump s three eldest children: Donald Jr, Ivanka and Eric.
The former real estate magnate has two other children: Tiffany, with his second wife, Marla Maples, and 11-year-old Barron -- who lives with his parents at the White House.
Ivana, a Czech-born former model, skier and businesswoman, married Trump in 1979. The couple were a fixture on the New York celebrity circuit before divorcing in a blaze of scandal in 1992.
Trump went on to marry Maples, with whom he had been having an affair, but they divorced six years later. Melania is Trump s third wife.
Ivana is perhaps best known for coining Trump s nickname "The Donald."