Last Updated On 04 October,2017 10:44 pm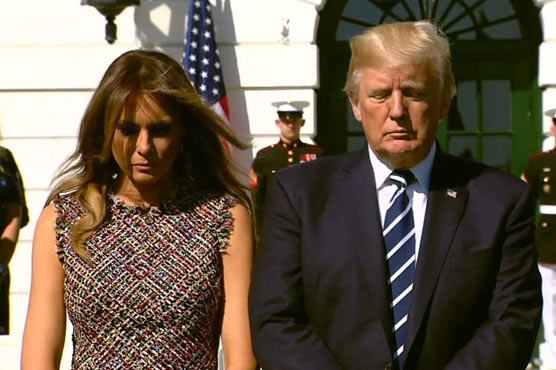 Paddock's girlfriend returned to the United States and was met by FBI agents
LAS VEGAS (AFP) - President Donald Trump arrived Wednesday in Las Vegas to meet survivors of the deadliest mass shooting in modern US history.
Air Force One touched down at McCarran International Airport as the FBI was questioning the girlfriend of gunman Stephen Paddock for clues to what drove him to mass murder.
"We re going to pay our respects and to see the police who have done really a fantastic job in a very short time," Trump said as he departed the White House.
"It s a very, very sad day for me, personally," said the 71-year-old.
Paddock s girlfriend returned to the United States from the Philippines late Tuesday and was met by FBI agents waiting to hear whatever she might know about the motive for the Sunday night massacre, which left 58 dead and more than 500 injured.
"They re learning a lot more," Trump said of the investigation. "And that ll be announced at the appropriate time."
Although the FBI was eager to talk to her, Marilou Danley, 62, is not in custody -- she is classified as a "person of interest" to investigators -- and is free to go wherever she wants, US media reported.
She was out of the country when Paddock opened fire with high-powered rifles from a 32nd floor hotel room at a sea of concertgoers below on the Las Vegas Strip.
Authorities are investigating reports that while she was in the Philippines, Paddock wired her $100,000.
Danley is an Australian citizen who moved to the United States 20 years ago to work on the casino strip, the Australian government confirmed Tuesday.
Authorities have been at a loss as to how a 64-year-old gambler and retired accountant had hauled a vast arsenal of weapons to the hotel and launched his assault.
Investigators say the shooting appeared to be extensively planned: Paddock set up one camera in the peephole of his hotel room door and two in the hallway.
"I anticipate he was looking for anybody coming to take him into custody," said Sheriff Joe Lombardo.
- 47 firearms seized -
Meanwhile, victims began to be identified in the media, each new story stirring emotions as America once again grappled with calls for reforms to its permissive firearm control laws.
US officials have reacted cautiously to a claim by the Islamic State jihadist group that the shooter had carried out Sunday night s massacre on its behalf.
Authorities said Paddock, who had no criminal record, smashed windows in his hotel room shortly after 10pm on Sunday and rained fire on a crowd of some 22,000 attending a country music concert below.
In footage of the massacre, the sustained rattle of gunfire is heard as people scream and bolt for cover with little idea of where the shots were coming from.
Paddock fired through the door of his hotel room and hit a security guard in the leg. But when a SWAT team stormed the room where Paddock had been staying since September 28, they found he had killed himself.
Authorities have seized 47 firearms from three locations.
- Mind of a psychopath -
So far, investigators have found nothing to explain Paddock s actions, but were continuing to hunt and trace every possible clue about a gunman they described as a "psychopath."
"For this individual to take it upon himself to create this chaos and harm is unspeakable," Lombardo told journalists Tuesday, saying the shooter s degree of preparation made it clear the attack was extensively premeditated.
Details have gradually emerged about some of the victims -- a kindergarten teacher from California who had married her childhood sweetheart, a Tennessee nurse, a high-school secretary from New Mexico.
Stories of heroism also surfaced. Bruce Ure, deputy police chief of the small Texas city of Seguin, was in the concert s VIP section when the gunfire broke out.
He sheltered from the bullets between two buses, then tended to three strangers who had been shot, loading them into a passing car and riding with them to hospital.
"They were all crying, and I was too," he told AFP. "They were saying that We re going to die, we re going to die, and I still remember telling them: Not tonight, not tonight. Tonight s not your night. You re going to be ok. Because I truly believed it."
While the White House has rebuffed calls to reopen the fraught US debate on gun control, Congress did shelve a controversial plan to make it easier to purchase gun silencers and make it more difficult to classify certain ammunition as "armor piercing."
- Two doors from a lunatic -
According to his brother, Paddock was a high-stakes gambler and their bank-robber father was once on the FBI s 10 Most Wanted list.
But Eric Paddock said his brother had led an otherwise normal life.
"He liked to play video poker. He went on cruises. He sent his mother cookies," he said.
Paddock s neighbors in Mesquite, Nevada, 80 miles (130 kilometers) northeast of Las Vegas, were similarly dumbfounded to discover the killer lived in their midst.
"It just blew me away," said Rod Sweningson. "We ve never even thought about locking our doors. We didn t know we lived two doors down from a lunatic."
The Las Vegas attack is the deadliest shooting in recent US history, surpassing the toll of 49 dead in an attack on a Florida nightclub in June 2016.