Last Updated On 28 September,2017 08:00 am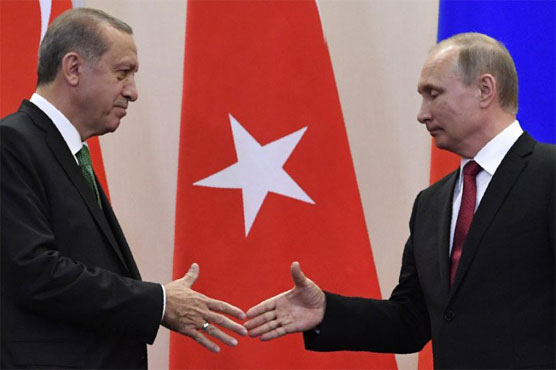 Vladimir Putin on Thursday will meet Recep Tayyip Erdogan for talks on Syria and key weapons deal.
ISTANBUL (AFP) - Russian President Vladimir Putin on Thursday meets his Turkish counterpart Recep Tayyip Erdogan for talks on Syria and a key weapons deal, hoping to strengthen an increasingly active relationship that has troubled the West.
Despite a regional rivalry that goes back to the Ottoman Empire and the Romanov dynasty, Russia and Turkey have been working closely since a 2016 reconciliation ended a crisis caused by the shooting down of a Russian war plane over Syria.
"Russia and Turkey are cooperating very tightly," Putin s spokesman Dmitry Peskov said ahead of the one-day working visit by Putin to Ankara.
Both Moscow and Ankara are pushing for the creation of four "de-escalation zones" in Syria to end the civil war that has raged since 2011.
Meanwhile, Turkey, a NATO member, has signed a deal reportedly worth $2 billion to buy S-400 air defence systems from Russia, a move that has shocked its allies in the alliance.
But while Putin and Erdogan are at pains to project an increasingly productive relationship, a shadow could be cast by Monday s independence referendum in Iraqi Kurdistan, which enraged Ankara but which Moscow stopped short of condemning.
Turkey and Russia have been on opposing sides during the more than six years of war in Syria, with Russia the key backer of President Bashar al-Assad and Turkey supporting rebels seeking his ouster.
But while Turkey s policy is officially unchanged, Ankara has notably cooled its attacks on the Damascus regime since its cooperation with Russia began to heat up.
Economic cooperation is also beginning to flourish, with Russian tourists returning to Turkey and the two countries working on a Black Sea gas pipeline.
Yet analysts say that while both countries share an interest in seeking to discomfort the West by showing off close cooperation, their relationship falls well short of a sincere strategic alliance.
"Relations between Turkey and Russia may appear to be friendly, but they are loaded with contradictions and set to remain unstable in the near term," Pavel Baev and Kemal Kirisci of the Brookings Institution wrote in a study this month.
Russia s stance on the non-binding Kurdish independence vote is also troubling for Turkey, for whom opposing Kurdish statehood is a cornerstone of foreign policy due to its own Kurdish minority.
The Russian foreign ministry said Wednesday that while Moscow supports the territorial integrity of Iraq, it "views the Kurds national aspirations with respect".
Erdogan will want to press Putin over the much-heralded S-400 deal, which while officially signed could still be years away from implementation.
Timur Akhmetov, a Turkey expert at the Russian International Affairs Council, said deliveries of the S-400s could probably begin only after 2020-21 due to orders from China, while Ankara s insistence on a technology transfer as part of the deal may also create problems.
But both Moscow and Ankara are, for now, happy to send a message to the West that they are serious about defence cooperation.
"They are trying to utilise the issue of the S-400 for their respective political interests," Akhmetov told AFP.